---
1989 – Mar – 6th – Inaugural service between Toronto to Chicago.
1990 - May - 23rd Northern Nighthawk service linked Ottawa and Toronto with Iqalut in the eastern Arctic.
---
Located in the "Info Canadi>n" magazine Issue dated March 1990
Planned service between Toronto and Mexico in October utilizing B-767-300ER equipment.
Canadian predecessor Canadian Pacific Air Lines served the Mexican capital commencing ln 1953 and suspending the service 28 years later in 1981.
| | |
| --- | --- |
| At Canadian's check in counters at Gatwick Airport from left are: P.C. Dave Le Manquais, Maurice Boyle, station manager, Gatwick, Leslie Price and Jenny Flaherty customer service agents. | |
---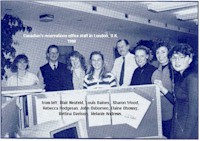 Canadian's reservation office in London, U.K has staff of 51 and handled more than 70,000 calls in January and February. Some of the staff at the reservations office are, from the left: Blair Neufeld, Louis Baines, reservations sales agents, Sharon Wood, manager reservations, Rebecca Hodgesan, John Osborne, reservations sales agents, Elaine Ohoway, reservations supervisor, Bettina Davison, trainer, and Melanie Andrews, reservations sales agent.
---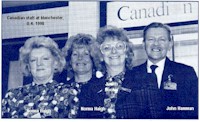 England has a catchment of over 20 million people ''Canadian's route structure is going to be a real boost for us,'' said John Hamman, airport services supervisor, Manchester, U.K.
"Our customers don't like going through London so our non-stop service to Toronto is another advantage over the competition.''
Norma Haigh, front-left, on her last day before early retirement after 10 years of service with the company. Front right ls Sheila Asprey, rear left, Judith Booker & John Hamman.