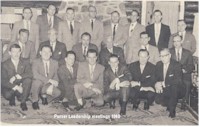 PURSERS of the Overseas Region met with some of the key Managers of their Region during a ''Purser Leadership" discussions while the photographer recorded the unique occasion.

Front row, left to right: Pursers P. Rothe, J. P. Girouard. J. C. Brabant, W. R. Mallar and P. A. Gendreau; Captain R.M.Smith, Flight Operations Manager; L.H.Wedge, Management Development Asst; Second row: W. P. Sansom, Regional Maintenance Supr.; J. G. Maxwell, Regional Sales Manager; A. E. Candy, Flight Despatch Manager; C.S.Hewett, Regional Operations Manager; A.C.Phillips, Passenger Service Supvr.; M.A.Johnston, Station Operations Manager.

Rear row: P.G.Barber, Chief Purser; W.H.Lane, Purser; A.W.MacDonald, Asst. Chief Purser; M.Robbins, Project Leader; and Pursers L.R.Pitt, R.D.Wall, G.L.Pitcher and G.J.Sheppard.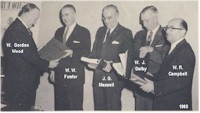 ''THE MARKETING PLAN,'' the first fully integrated approach to TCA marketing problems, is presented by W. Gordon Wood, Vice-President Sales to the four Regional Sales Managers.

From the left: W. Gordon Wood: W. W. Fowler, Eastern Region; J. G" Maxwell, Atlantic Region,; W. J. Dalby, Western Region; and W. R. Campbell, Central Region. The Marketing Plan is the basis for the Company's Sales plans in the jet age.

(Everyone has to have a plan, even upper management – eds).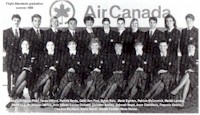 New Flight Attendants graduation during the summer of 1989.
Seated L to R: Carole Pinto, instructor; Karen Wilford, Pamela Bardo, Carol Ann Peet, Sylvie Bois, Maria Egerton, Patricia McCormick, Marian Lamary, instructor.
Standing L to R: Jacques Marion, Irvin Wilcox, Louise Clement, Christian Aveline, Deborah Nagel, Anne Charlebois, Francois Gauvin, Claudine Buckland, Pierre Hamel, Ginette Ferlatte, Maria Mulder.