Robert Arnold send us this information -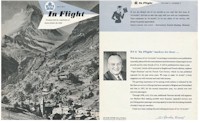 I received in the mail, from Laureen Moffat, a pristine copy of the first issue of "InFlight Magazine", which was released April 1, 1958. After a brief discussion, Laureen was kind enough to allow me to include this rare issue into my TCA collection for which I am very honoured. According to the details inside the front cover, this magazine replaced the "Flight Horizons" magazine which TCA published regularly over the previous seven years.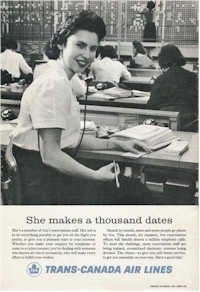 I have included views of the front cover, inside front cover, and back cover for your readers enjoyment. Interesting advert on the back cover though, as I doubt this would be allowed in today's carefully worded world.