Ken Pickford refers to the article sent us by Diane and David Bellemy under "Terry's trivia and travel tips" in NetLetter nr 1337.
You've been including some links recently to the "RoadWarriorVoices.com" site. While the articles are of moderate interest, it's obvious the writer wasn't born until long after the periods he's writing about.
For example, the "1950s" link mentions that the 707 had "round windows". Not correct. They were rectangular, just like the original Comet, but smaller. Part of the Comet's early structural issues weren't just the windows but the use of fuselage skin that was too thin. They did replace the rectangular windows with round windows on the heavily modified Comet 4 that went into service in 1958 but Boeing and Douglas didn't follow.
In his 1940s link, he mentions that "all" Stratocruisers had seats that converted into beds. Those seats were options, not standard equipment. He also includes the following sentence: "Cabins, from the rear of the plane all the way up to the first class seats up front, were constructed to allow passengers the utmost comfort."
As anyone who flew in the propeller era will recall, first class on aircraft with more than one class of service was at the rear, not the front. Unlike jets, the rear of propeller aircraft was the quietest part, as far from the engines as possible. First class moved to the front with the arrival of the jets, for the same reason.
Regards Ken
---
In NetLetter nr 1318 we had an article regarding "The aviation race is on".
Norman Hogwood, in New Zealand, refers to one of the items and sends this comment -
The Emirates non-stop flight between Dubai and Auckland commenced on March 01. Because AKL has been so kind to them they popped an A380 on the first service, replacing the scheduled B777-200LR which has operated it since. My wife's sister from Holland used it and arrived here last Saturday. Blocks time was 15hrs 01min. Her suitcase arrived 48hrs later!!
Qatar Airways has now announced that it will commence a non-stop Doha-Auckland service in December. 18hrs! The cheap fuel is driving airlines crazy.
Cheers. Norm
---
George Wallace wants to set the records straight in NetLetter nr 1339 -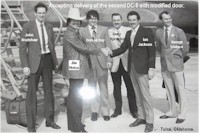 Ref the DC8 acceptance picture at Tulsa Oklahoma in this issue 1339,
The Douglas representative is Jim Pintus (spelling error) and the unknown maintenance representative Tulsa is George Wallace. I was the maintenance representative the McDonnell Douglas facility in Tulsa in 1980/81/82.
George Wallace.