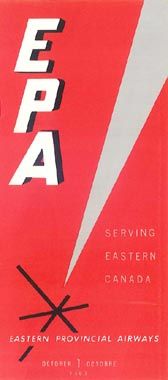 1963 - October
Eastern Provincial Airways timetable.
---
Pulled out of the "Info Cargo" Magazine issue dated July 1991.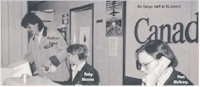 In February 1989, employees in St. John's (YYT) worked in a 4000 sq. ft. blue and white striped tent. Because daylight penetrates The Norseman's tent translucent sides and walls, it was surprisingly bright inside. Keeping warm during one of Newfoundland's famous 'noreasters was never a problem, except for fuel costs.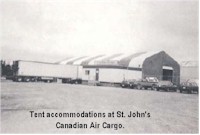 In our photos, at the left: Hudson Kane, Ruby Moores and Pam McGrory. And here we have their accommodations.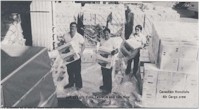 Honolulu cargo employees, from the left: Jeffrey Lum, Felix Tabisola and Ken Hirai load Sanyo VHS cameras bound for Canada.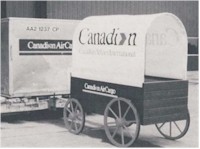 In order to accommodate extra freight, Air Cargo employed this addition to its fleet.
---
Betty Draper has sent us this from "The Leader-Post" newspaper dated September 2, 1943
RECORD MADE.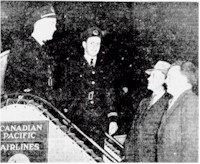 Arrival of this crew at the Regina airport, Tuesday night marked the completion of 100 percent efficiency record for the pilots and planes of the Saskatchewan division of C/P/Airlines. In the picture.
From the left: Captain. P.D.Iverson, First Officer H.E.Thorn; W.T.Dunn, flying assistant superintendent and H.T.Bancroft, supervisor of maintenance.
---
Perfect Efficiency Mark For August.
When Capt. P.D.Iverson taxied the southbound Barkley Grow airliner to a stop at the Regina airport ramp and switched off the engines shortly before 8:10 pm Tuesday his actions signaled the completion of a record by the Saskatchewan division of Canadian Pacific Airlines. With this trip the pilots and planes of the prairie airline and office staffs made a new efficiency record.
Two Beechcraft and one Barkley-Grow type airliners, the former carrying six passengers and the latter eight, fly the route. Two-way radio communication is maintained in the air, planes are equipped with radio compasses. One flight originates daily in the morning from Regina and terminates at North Battleford with stops at Moose Jaw, Saskatoon and Price Albert, with a return flight in the evening. Another flight originates at Saskatoon, calls at Moose Jaw and ends at Regina, with a return flight the same day.
For the month of August, they had flown 31,636 miles, or roughly, the equivalent of one and a quarter times around the world at the equator. Not one scheduled mile had been lost. Six hundred and ninety-one passengers had been carried.
Since the formation five years ago personnel has grown from 23 to 38, included are three captains, three first officers. Air distance between Regina and North Battleford is 366 miles. It is flown in two hours and 50 minutes.