1981 - March - Timetable for AirBC.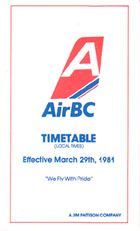 AirBC was formed December 1, 1980 on the merger of Airwest, Gulf-Air Aviation, Haida Airlines, Island Airlines and West Coast Air Services. Air BC was a division of the Jim Pattison Group of Companies.
---
Air New Zealand to 3D print its own aircraft interior parts.
The airline has been working with Auckland University of Technology to manufacture the fold down cocktail trays that form part of its Business Premier seat using innovative 3D printing - also known as additive layer manufacturing technology.
---
For a very short period of time, billionaire Donald Trump - the Republican front-runner in the race to the White House - also tried to become an airline entrepreneur.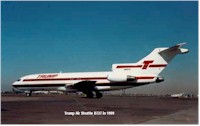 Trump bought the venerable Eastern Air Shuttle in 1988. The Shuttle flew hourly flights between Washington DCA, New York LGA and Boston for 27 years. But the Shuttle was a victim in the Eastern Air Lines labor disputes under the leadership of Frank Lorenzo, and Trump moved on it.
Trump bought 17 Boeing 727s and changed the whole character of the very basic Shuttle, attempting to make the service a luxury experience, adding wood veneer floors and gold-colored bathroom fixtures. Shuttle fliers were not impressed. They loved the ease and simplicity of the original Shuttle. Passengers could show up at the airport a half-hour before their flight and hop on the no-reservation Shuttle and arrive at their destination an hour later.
Lack of interest in the Trump Shuttle plus high fuel prices caused Trump to default on his $360 million-plus loan and the airline closed in 1992.