1984 - Oct 28th - Inaugural service to Kelowna.
---
Found in the "CP Air News" magazine issued August 1984.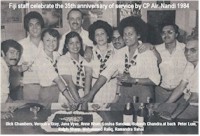 In 1984, Fiji celebrated the 35th anniversary of service by CP Air. The Nandi airport staff cuts the cake and uncorks the champagne. In our photo, from the left, we have: Dick Chambers, Veronica Gray, Jana Vyas, Anne Khan, Louisa Sandam and Subash Chandra. At the back are Peter Lum, Ralph Sharp, Mohammed Raliq and Ramandra Sahai.
---
Issue dated Mid November 1984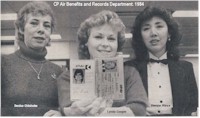 The company has new ID cards, the new one shown on the left of this photo. The new card is in credit card format. The current cards were not durable and just large enough to be inconvenient for most wallets. The new cards were issued December 1984 by this trio in the photo. From the left: Denise Chisholm, Lynda Cooper and Simone Prince of the Benefits and Records Department.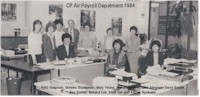 This is where the payroll was done. These are the people who did it, from the left: Patti Simpson, Doreen Thompson, Mary Wong, Ann Templeton, Otto Wegner, Gerry Bayne, Bea Barber, Monica Lee, Elsie Tan and Esther Ayukawa.
The 11th staffer, Ev Erdman was on vacation. (Ev was on "paid" vacation no doubt<G> - eds)
---
Issue dated December 1984
Air Maritime was created as a wholly-owned subsidiary of Eastern Provincial Airways to operate its short haul feeder routes utilizing Hawker-Siddley 748 aircraft. All employees are EPA employees.
The airline employees at Fredericton with a dual identity - they're Eastern Provincial when the jet comes in and Air Maritime when a turbo-prop arrives. From the left: Jim Kendall, station manager; and customer sales agents Clyde MacDonald, Sardy Brewer, Jerome Cyr and Shirley Trenholm. (Although the photo has six employees, only five are identified, but which five? - eds)
Something to smile about in Tel Aviv.
From the left: Elen Fisher, relief ticket agent; Joe Binder, accountant; Gideon Thaler, manager; and Nissim Sagis, relief ticket agent; with the new Pegasus terminal. Tel Aviv had the system installed during October and came on line December 1984.