Air Canada flight AC7007 departed O.R. Tambo International Airport in Johannesburg, South Africa early Sunday en route to Edmonton, Alberta with 300 South African firefighters on board. It is carrying the largest number of wildland firefighters ever brought into Canada. The Air Canada Boeing 777-200LR is carrying firefighters from South Africa's Working on Fire Program (www.workingonfire.org) who will assist in firefighting efforts underway in Northern Alberta. It is also that organization's largest-ever deployment. For full story follow this link.
---
On April 29, 2016 Calin Rovinescu officially opened "Moments", Air Canada's brand new museum that showcases our vast 79-year history through artifacts, documents, model airplanes and other displays.
---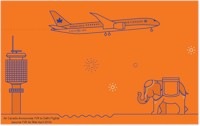 Air Canada will launch seasonal Vancouver-Delhi flights with a Boeing 787-9 starting in October 2016. The service is scheduled to run from Oct. 20, 2016 to April 8, 2017. Air Canada's 787-9s are configured with 298 seats, including 30 lie-flat seats in business class, 21 premium economy seats and 247 economy seats.
---
This summer, Air Canada will be launching new international services from Vancouver-Brisbane, Vancouver-Dublin, Toronto-Prague, Toronto-Budapest, Toronto-Warsaw, Toronto-Glasgow, Toronto-London Gatwick, Toronto-Seoul, Montreal-Casablanca and Montreal-Lyon.
---
B777-300 Fin # 748 was delivered on April 25th, 2016 bringing the fleet to 24 aircraft with one more, Fin # 749 to come.