Neil Burton has sent us this information –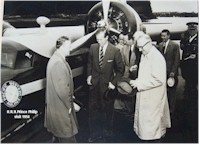 What began as a search for a photo, to obtain names, and a date, has ended up in a paper on a tour of Prince Philip to B.C and Canada's north.
Photo is courtesy of Mrs. Smuland, widow of late A.W. (Al) Smuland (1928-2005). Al was a Pacific Western Airlines pilot on Fulton Field (Kamloops Airport) from 1955 to the early 1960's.
Photo: Photographer, reception committee, location and year all unknown. Image not located in Vancouver Sun, nor Victoria Daily Colonist during period of Royal tour.