Okanagan Pionairs Profile - Gretchen Aird Dawson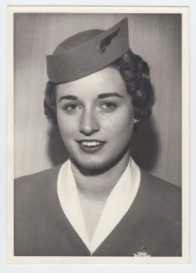 The year was 1951 and a young girl named Gretchen Wood Aird who was born and raised on the Caribbean island of Trinidad, relocated with her family to Canada, settling in Toronto. It wasn't long before Gretchen's father's work took the family to Winnipeg then on to Vancouver where Gretchen completed her education. Her claim to fame while in Vancouver was babysitting Prime Minister Justin Trudeau's Mother, Margaret Sinclair.
It was in Vancouver where this attractive young lady set her sights on becoming a stewardess with the then Trans-Canada Air Lines, she was accepted by the airline and completed her in-flight training in Montreal in May of 1960.
Initially based in Toronto, Gretchen was transferred to Vancouver, however her longing to fly the Caribbean routes took her back to Toronto, where she eventually left the Airline in 1966.
Gretchen served as stewardess and occasionally purser on the North Star, Super Constellation as well as the Viscount, Vanguard and the DC-8. She flew on the inaugural DC-8 return flight to Montreal to attend TCA's training school.
She served the company with a passion and that passion led to the creation of Canadian Maple Wings Association in 1980, an association of Stewardesses and Flight Attendants that Gretchen started in 1977. Canadian Maple Wings Association (CMWA) has grown and remains a social entity of a proud group of wonderful men and women who strive to preserve TCA and AC's aviation history as well as continuing to nurture the airline family.
Gretchen was also instrumental in having CMWA members hostess the TCA Wartime Pilots Reunion in Toronto in 1983. Additionally she organized CMWA members as volunteers at the Canadian Warplane Heritage Museum in restoring Canada's Lancaster MK.X VR-A for its debut flight in Toronto in 1988. Working with Air Canada, Gretchen arranged to have original Stewardesses on board their 50th anniversary celebration of "Sentimental Journey" for the L10-A CF-TCC flight across Canada to all 50 stations that TCA and AC had served over the past 50 years. Eight wonderful ladies, (CMWA) members were selected to do the job. Incredible PR for Air Canada! 
She continues to volunteer for several organizations and served as an Airport Ambassador at YLW from 1999 to 2009, for ten years. Now that is dedication!
Gretchen has one son and two loving grandsons who reside in Cochrane, Alberta. She and husband Jim reside in Lake Country in the interior of BC. A somewhat brief career, but one full of fond memories and lifetime friendships.
(Reprinted from Pionairs Okanagan District newsletter - Spring/Summer 2017).