1971 - April 1st - Inaugural B747 service YYZ - YVR.
1980 - November 1st - Lease of an L1011 to Air Lanka, a second L1011 was leased April 1981.
---
Found in the "Between Ourselves" magazine issue November 1946.
Another T.C.A.R.A.
The Lethbridge unit of Trans-Canada Air Lines Recreational Association is just getting steam. The plan is, as in all cases, to get everyone together as one happy family. We believe that we are that now, but we want to have fun together,on a grand scale.
The Executive chosen include John Robulak, President; Allan Lewis, V.P; Alice Groves, Treasurer and Jean Nelson Secretary.
The Executive Council is as follows: Stan Clarke, Publicity; John Deak, Promotion and Sales; Ory Knight, Chairman of Sporting Activities; Bob Cuthill, Chairman of Outdoor Recreational Activities; Betty Pelletier, Chairman of Dance Committee; Jack Simpson, Chairman of Transportation Committee; and Doug Hilton, Auditor.
With such a live-wire group at the controls, we feel that we shall have a fine organization on our hands. You will hear more of our functions when we get out of this embryonic state and get cooking.
(Sorry no photo available, and no chapter on the ACRA web site. Anyone know if the Lethbridge (TCARA/ACRA) still operates - eds)
Preparations are well underway for the Fall and Winter activities for our local Moncton T.C.A.R.A. Club.
During the last few weeks an election by ballot was held and brought forth a new slate of officers. The following have been elected fo the ensuing term: Rod Grant, President; Gordie Barbour, V.P. Bill Weldon, Secretary and Sam Leonard, Treasurer.
(Sorry no photo available, and no chapter on the ACRA web site. Anyone know if the Moncton (TCARA/ACRA) still operates - eds)
---
Dragged out of the "Between Ourselves" magazine issue dated May 1981.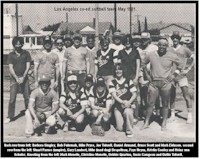 The Los Angeles co-ed softball team was surprised at the response to their invitation to Canadian stations to take part in a slow pitch tournament. Calgary, Edmonton, Vancouver and Toronto took part. The LAX employees provided a real Californian welcome throwing a party on the Friday evening before the tournament.
Calgary walked off with the trophy, but LAX were happy with their one win, the first victory in two years. Christine Monette said their motto was "have bat - will travel".
In this photo we have, back row from left: Barbara Singley, Bob Fuhrmah, Mike Pryce, Joe Tidwell, Daniel Armand, Bruce Scott and Mark Eiduson.
Second row from the left: Stuart Parnes (umpire), Gary Lambert, Mike (mad dog) Despelteau, Faye Neyva, Kristin Cooley and Heinz von Schuler.
Kneeling from the left: Mark Monette, Christine Monette, Debbie Quarton, Susie Campeau and Dollie Tidwell.
---
Halifax celebrates its 40th anniversary.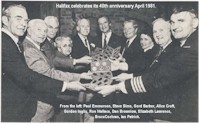 The event celebrates the 40th anniversary of service into Halifax on April 16th, 1941 when Walt Fowler, piloting a twin-engine 10-passenger Lockheed Electra from Montreal, landed at Eastern Passage RCAF base at Dartmouth to "Weld the final link in the Trans-Canada chain" as one headline of the day put it.
The biggest cake served at the evening reception before 100 civic and media guests, honouring the first six Halifax employees.
District Manager Charlie Stock introduced Stewart Sime, Paul Emmerson, Alice Croft, Gordon Inglis and Gordon Barber. The sixth employee, Brian James, was unable to attend.
In our photo, five of the original employees present commemorative coin sets to special guests at the reception.
From the left: Paul Emmerson, Steve Sime, Gord Barber, Alice Croft, Gordon Inglis, Halifax Mayor Ron Wallace, Dartmouth Mayor Dan Brownlow, Halifax Country Warden Elizabeth Lawrence, Tourism Minister Bruce Cochran and Shearwater Base Commander Ian Patrick.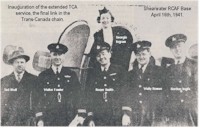 In this photo the Lockheed Electra which inaugurated the extended TCA service from Moncton to Halifax had this crew.
From the left: Ted Stull, Maintenance Engineer; Captain Walter Fowler; Captain Roger Smith; Halifax Station Manager Wally Rowan; Gordon Inglis, Radio Operator. In the background is Stewardess Georgie Ingram.
---
Issue June 1981.
The distinction of being the first foreign flag carrier to fly into New York's LaGuardia airport belongs to Trans-Canada Air Lines when a 14-seat Lockheed Lodestar arrived from Toronto to commence the service between Toronto - New York on May 10th, 1941.
---
Pionair National Executive for 1979/80.
From the left: John McFarland, Treasurer; Mary Brown, Second V.P.; Joe Lorimer, President; Avon Lorimer, Secretary; Martin Betts, Past President; Frank Millman, First V.P.
Pionair National Executive for 1981/82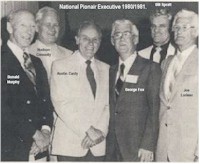 From the left: Donald Murphy, Secretary; Hudson Connolly, Treasurer; Austin Cardy, Second V.P.; George Fox, President; Bill Spratt, first V.P; Joe Lorimer, Past President;.
During the 1981 Pionairs National AGM held at the Marriott Hotel, Anaheim, California, a group of attending flight attendants from the TCA Maple Wings provided some of the entertainment with a chorus line performing a skit to the music provided by Jean Trory.
The group welcomed everyone aboard a 1981 flight to memory lane with a rollicking rendition of their very own "Flying high in days gone by" and "Hey, look us over". We wonder if any of them remember this?
In this photo from the left: Christine Scott-Randall, at the podium; Elizabeth Armitage, Gloria Dillon, Marilyn Bartman, Velma Hughes, Marilyn Mackay, Edna George-Clayton, Cherry Woodworth-Vassal, Shirley Baine, Dell Finlay, Barbara Bolton-Cooper, and Ruth Leslie-Heenan.