Gretchen Dawson sends us this photo with a request -
Would any NetLetter subscribers be able to identify the stewardess and the two gentlemen in this photo taken in 1943?
The photo below was received in an email from a friend who sent it from a website that specialiazes in "Colourized Photos That Make Canadian History Come Alive" by Mark Truelove who colourizes black & white photos from the past. He lives in B.C.'s Fraser Valley, and has a web site: www.canadiancolour.ca. That's as much as I know!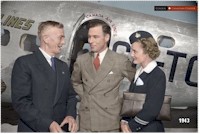 Photo courtesy of the Vancouver Archives: AM1184-S3. CVA 1184-1259
Photographer: Jack Lindsay