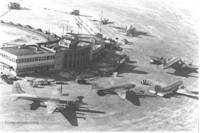 These are some of my memories of 65 years ago and early airline history. My first view of YUL would be like the picture of the domestic terminal taken around 1950.
My twin brother and I had flown up from YSJ for our first job in Aviation Radio, working for Transport Canada at the busiest airport in Canada at that time.
The radio room was on the 2nd floor of the building, with 4 operators on duty per shift. Most employees used public transit, which was provided free for airport personnel. Just east of this building were 6 wartime hangers. One served as the International Terminal for the Trans-Atlantic carriers (ie TCA/BOAC/KLM) and also the location of the "Dorval Inn". I actually stayed there one night in 1956.
ARCAN/NORTEL providing communications in phone and Morse code for Atlantic flights were also located in one of the hangars (where I worked in March 1953).
The late Don McVicar was writing a history of YUL but passed away before the last chapter was completed. To my knowledge the book was never published. From the picture you can note that only a few cars could be seen parked along the road.