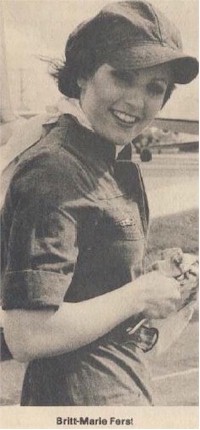 During Air Canada's 40th anniversary celebration in 1977, an article appeared in the July edition of Horizons about a young flight attendant named Britt-Marie Ferst who had appeared in a CBC telecast from the Silver Broom curling championship from Karlstad, Sweden. Ms. Ferst, who was born close to Karlstad, was one of two translators who worked at this event.
Ms. Ferst had moved to Canada as a young adult, full of spirit and determination. After arriving in Montreal, she moved to Vancouver where she began working as a secretary although she was still dealing with the challenge of learning English.
She applied to Air Canada for a flight attendant job in 1972 and, while still struggling with her English skills, passed the training course. However, this ambitious young lady had a career on the flight deck in mind and in 1973 enrolled with the Brampton Flying Club where she began to accumulate the required flying hours. In 1979, she became the first woman in Air Canada to move from the cabin to the cockpit when she was promoted to second officer on the DC-8 fleet.
Unfortunately, we have not been able to find out how Ms. Ferst's career advanced in the following years. We would certainly appreciate any information regarding the rest of her remarkable life and career.
Click Here for the article in the July 1977 edition of Horizons
Click Here for the October 1979 article on her promotion to first officer.