Brian Flanagan, Chairman, Air Canada Scottish Reunion sends us this information –
Our reunion is the first since Air Canada stopped flying to Glasgow some years ago.
Date: Wednesday, 27th September 2017.
Where: Ellisland House Hotel, Racecourse Road, Ayr, Scotland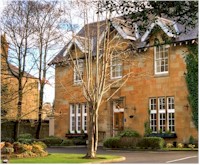 We are expecting some 70 ex-colleagues who worked in the Glascow office and at Prestwick and Glasgow Airport. They are coming from all over including Montreal, Toronto, and London together from all over Scotland. The hotel is 10 minutes' walk from the centre of AYR, or five minutes in a taxi.
Lunch: 12:00 for 12:30 pm, a three course meal, will be full à la carte menu plus tea or coffee.
Cost per Pionair and spouse £14.00 each.
Cost per non Pionair member and spouse £24.00 each.
The rates includes gratuity.
This discount is to celebrate the 40th anniversary of the Pionairs. The hotel has given us a special rate for accommodation.
Twin or double room £100.00 per room.
Single Room £70.00 per room.
Rate includes full Scottish Breakfast.
If booking please quote AIR CANADA to obtain the discount. Our invitation is to all, however we have limited accommodation. Now remember Air Canada Rouge operate four flights per week from Toronto to Glasgow and four flights per week from Toronto to Edinburgh.
Glasgow Airport is approximately 30 miles from Ayr and Edinburgh is approximately 70 miles. Both can be reached by excellent bus and train services.
Contacts for more information www.ellislandhouse.com
Brian Flannagan on This email address is being protected from spambots. You need JavaScript enabled to view it.
or
Liz Hosie on This email address is being protected from spambots. You need JavaScript enabled to view it.
Thank you,
Brian Flanagan