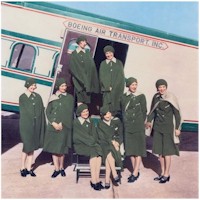 While traditionally considered a role for women, the first flight attendants were all male before the first "stewardess" was hired by America's United Airlines in 1930 and soon female flight attendants, or "air hostesses", became the norm.
Pictured are Boeing Air Transport (BAT)'s first female flight attendants.
Back in 1930, Ellen Church, a 23 year old registered pilot, became the world's first female stewardess, hired by BAT who refused to recruit her as a pilot at the time. The heavy green cape and beret (currently on display at the SFO Museum), along with other vintage uniforms were meant to keep flight attendants warm during pit stops as planes needed to make more frequent landings to refuel.
Click Here for more info on the "Fashion in Flight" display at SFO museum.

(Source: Daily Telegraph)