The forgotten Trethewey Air Field.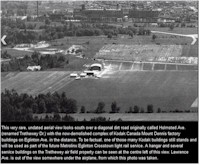 De Lesseps Field was a small, but important airfield in early aviation in Toronto.
Opened sometime before 1910, an airfield was created from three farms by engineer William G. Trethewey (1865–1926). The airfield was located near present-day Hearst Circle and the Wishbone on a 600 acres (2.4 km2) site in York Township (just outside Weston, Ontario).
The grassy airfield was later used by French aviator Count Jacques Benjamin de Lesseps (1883–1927) and later renamed after him. The property remained in the hands of the Trethewey family after the death of Trethewey, but in 1928 Trethewey's son Fred sold it to airline Skyways Limited.
De Havilland Canada established their first home here in 1928 (building a small hangar) to build Gipsy Moth and Tiger Moth aircraft, but left for Downsview in 1929.

(Source: wikipedia.org and Toronto-Sun)
There was a Trethewey Airfield Plaque Dedication ceremony on July 15, 2017. The Canadian Aviation Historical Society had a great writeup of the event in their July Newsletter. You can view this newsletter by following this link.