Bill Cameron has sent us these photos -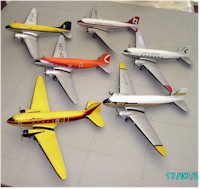 I thought you might be interested in a collection of 1/72nd scale plastic models of various DC-3 aircraft flown by airlines of Canada in the past (and one model of a C-46 from the 'Dew Line' operation of the 1950's).
I put together the models of the collection ten years ago, when kits and decals were still available, and the models are now in the museum of Canada's Aviation Hall of Fame at Wetaskiwin, Alberta.
Sorry – I never got the decals for a TCA DC-3...
Cheers, Bill Cameron, Okotoks, Alberta