Orville wrong!
One hundred years ago, Orville Wright expressed himself as anything but enthusiastic of the chances of an ocean aircraft service. "I cannot," he said, "foresee a time when crossing the Atlantic by air will be a regular occurrence".
(Source: Flight International, September 5, 2017)
Early to bed.
Think airline lie-flat beds are new?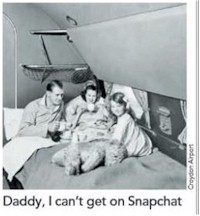 This photo posted by Croydon airport in the UK - London's main gateway in the 1930's and now a listed terminal and museum - shows an Imperial Airways de Havilland DH 91 Albatross from 1938 outfitted for transatlantic horizontal comfort.
(Source: Flight International September 10, 2017)