Air Canada concluded amendments to existing long-term labor agreement with its 3,500 ACPA-represented pilots that it says provide added commercial/operational flexibility, plus improved cost competitiveness, with pilot career growth opportunities.
(Source: SpeedNews September 17, 2017)
More details at Skiesmag.com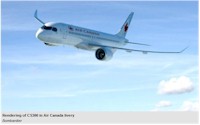 After several years of focusing on wide body fleet renewal, Air Canada is now preparing to start introducing a large number of new narrow bodies. "This will switch the focus of our narrow body mainline fleet from the Airbus A320 family to the Boeing 737 MAX and Bombardier C Series, which is going to complement the investments we have made to our wide body fleet," Ben Smith, passenger airlines president, said during a September 19, 2017 investor day in Toronto.
Click Here for the full "Investor Day" report from aircanada.com.