In 1982 there were 20 ACRA (Air Canada Recreation Association) chapters in operation, but by 2017 there are now only 10 chapters on the ACRA web site.
---
Team Air Canada UK participates in the Royal Bank of Canada Race for the Kids 2017.
On October 7th, 2017 Team Air Canada UK proudly flew the flag in Hyde Park, London in the RBC Race for the Kids which raises funds for Great Ormond Street Hospital, the UK's specialist care facility for seriously ill children.
Team Air Canada was: Sophie Cranfield - HR, Ripple Bika – Finance, Wayne Birnie – Finance, Emma Levett – Finance, Paul Adolphus – Sales, Clare Van Spall – Sales, Kate Price – Sales, Vasantha Indrakumar – AC Cargo, Luciano Bueno Chaves – LHR and in the true spirit of our joint venture, also included Satinder Mekwan from Lufthansa! They were also joined by five family members.
Team Air Canada UK is proud to have raised more than GBP2K in their run!
If you would like to support Team Air Canada UK's fundraising, please contact Team Captain Kate Price – kate.price@aircanada. (Source: The Daily October 10, 2017)
---
From the "Horizons" magazine.
Issue dated January 1982.
Pionairs AGM 1981.
Some 500 participants turned out for the fourth annual general meeting of the Pionairs held on April 30 to May 2, 1981 in Anaheim, California. At that time the Pionairs boasted a membership of some 1,300 retirees. The meeting combined informative sessions with some good old-fashioned fun such as the "Flight Attendant" chorus line pictured here.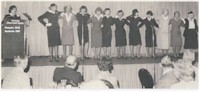 From the left: Christine Scott-Randall at the microphone, Elizabeth Armitage, Gloria Dillion, Marilyn Bartman, Velma Hughes, Marilyn Mackay, Edna George-Clayton, Cherry Woodworth-Vassal, Shirley Blaine, Dell Finlay, Barbara Bolton-Cooper and Ruth Leslie-Heenan.
Not shown is pianist Jean Trory.
---
Issue dated February 1982.
The Pionairs plan for California.
The Pionairs Board of Directors met in Vancouver and high on the agenda was the fifth annual general meeting of retirees to be held in Anaheim, California on May 14-17th 1982. More than 500 retirees are expected.
In this photo we have, members of the new executive.

Seated from left: Bill Spratt, First V.P; Don Murphy, Secretary; George Fox, President; Ozzie Candy, Second V.P. and Joe Latimer, Immediate Past President.
Standing are: Martin Betts, Founding President and Pension Rep; District Directors Paul Emmerson, Halifax; Jack Somerset, Vancouver; Gord Smith, Toronto; Evelyn Desjardins, Montreal; Gord Hooper, Calgary; Beth Ferguson, Winnipeg; Charlie Woolley, Victoria; Ken Taman, Ottawa and Roger Alain, Tampa representing Florida.
Missing from the photo is Hudson Connolly, Treasurer. (Strange that Hudson, as treasurer, should be missing! - eds)
---
Issue dated July - August 2008 (Used with permission).
Non-stop service between Toronto and Madrid began on June 15th, 2008 using the Boeing 767-300.
The inaugural Madrid to Toronto was the next morning after turn-around.
---
This year's 2008 Annual IATA International Ground Handling Conference took place recently in Kuala Lumpur, Malaysia.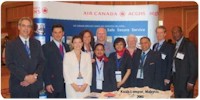 In this photo, taken in front of the ACGHS booth, we have, from the left: Brad Holstein, Terry Bonifacio (YEG), Chantal Baril, Donna Hart, Karen Taveras-White (SFO), Wayne D'Entremont (YHZ), Farida Moosa (YVR), Margaret Campbell (YUL), Jay Makim (YYZ), Steven Leonard and Carlton Miller.
---
From the US Pionairs directors report June 2017.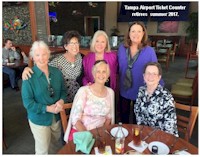 This photo of the retirees from the Tampa Airport Ticket Counter gathered for a lunch, fun and catching up. Seated from the left: Jo Shorthill, and Bonnie Moody.
Standing are Marjorie Robinson, Gloria Sterling, Sue Braggins and Lynn Traviesa.