Another TCARA is formed.
The Lethbridge unit of the Trans-Canada Air Lines Recreational Association is just getting under steam. The plan is, as in all cases, to get everyone together as one big happy family. We're that now, but we want to have fun together, on a grander scale.
The Executive chosen include: John Robulak, President; Allan Lewis, Vice-President; Alice Groves, Treasurer and Jean Nelson, Secretary. The Executive Council is as follows: Stan Clarke, Publicity; John Deak, Promotion and Sales; Orv Knight, Chairman of Sporting Activities; Bob Cuthill, Chairman of Outdoor Recreational Activities; Betty Pelletier, Chairman of the Dance Committee; Jack Simpson, Chairman of Transportation Committee and Doug Hilton, Auditor.
With such a live wire group we feel we shall have a fine organization on our hands. You will hear more of our functions after we get out of this embryonic state and get cooking.
(Unfortunately there was no group photo and Lethbridge is not listed on the www.acra.ca web site, therefore we assume it is defunct - eds)
Found in the "Horizons" magazine issue dated September 2008 (with permission)
As part of its ongoing commitment to the environment, Air Canada will begin offering earbud-style headsets for purchase on board a majority of its flights on October 1, 2008, while encouraging customers to re-use headsets or bring their own.
This initiative aims to reduce the number of headsets thrown away by offering a better quality product for sale that is compatible with portable electronic entertainment devices.
Five old guys and an aeroplane.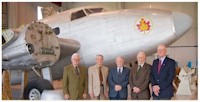 Old guys must have something to do, and when the "old guys" are retired pilots, chances are good it will have something to do with airplanes. On Tuesdays, a group of retired Trans Canada Airline (TCA) (aka Trans-Canada Air Lines - eds) pilots meets for lunch and/or coffee in Vancouver.
At a meeting the problem of a neglected TCA Lodestar aircraft came up, and a committee – The Lodestar Committee – was set up to save it from further deterioration.
Meet the "five old guys." They are:
Captain Jack Jones, who joined TCA in March, 1938.
Captains Bill Marr, Art Adamson and Jack Logan; military pilots who joined TCA in 1945.
Captain Bill Green, the youngest and tallest, retired after years of service with Canadian Airlines.
Some historical and technical facts about the Lodestar:
Sixth aircraft of this type and it was delivered to TCA on February 13, 1941.
The Lockheed Lodestar was the flagship of the TCA fleet from 1941 to 1947.
In 1948, the Lodestar in question was sold to the Department of Transport, and converted to "Club Executive Model," for use by Prime Minister Louis St. Laurent, cabinet ministers, and visiting heads of state.
At other times, it was used for ice patrol off the Labrador Coast and in the Far North.
At some point, the wings were sawed off... but then they were reattached and the aircraft painted in camouflage to resemble an RAF Hudson.
When it was discovered in a field in Illinois a few miles outside Chicago it was with other old wartime aircraft in what had once been a small museum. A group of retired employees, with Air Canada's help, purchased the aircraft in 1986 and had it moved to Crescent Road in South Surrey (south of Vancouver).
In 1998, the aircraft was moved to the Delta Air Park where it stayed for 10 years. In the spring of 1998, the Museum legally changed its name to the Canadian Museum of Flight Association.
In 2008, CF-TCY was moved to Abbotsford, to be refurbished and brought up to museum standard by the University College of the Fraser Valley, (UCFV) in the college hangar at Abbotsford.
From the "New Horizons' magazine issue dated November 2004 (with permission).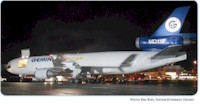 With the departure of the three B747 Combis - used for both passenger and cargo flights to Europe - Air Canada Cargo signed a wet lease agreement with Gemini Air Cargo of Washington, D.C. to fly dedicated McDonnell Douglas MD-11 freighter between Toronto, Halifax and Frankfurt.
The Tuesday cargo flight to Europe stops in Halifax to pick up 60 tons of fish for delivery to Spain.