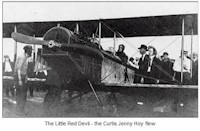 In August 1919, Captain Earnest Charles Hoy flew from Minoru Park, Vancouver to Calgary in 16 hours and 42 minutes in a Curtis Jenny JN-4.
The train from Vancouver to Calgary took 25 hours. The flight was the first ever made across the Canadian Rockies, also the first airmail delivery. The Flight from Vancouver was via Vernon, Grand Forks, Cranbrook, Lethbridge onto Calgary.
Click Here for the full story.