David Edward has sent this information he received from Paul Sanchez after the CF-TCC article appeared in NetLetter nr 1378.
"Dave, that certainly brings back some wonderful memories for me and I am quite impressed with the story of your family history. You are probably familiar with the CF-TCC, the Lockheed 10-A that Air Canada purchased in 1984.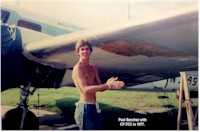 The attached pic is of me in 1977 stripping all of the paint off of 'er! Of course, that was 40 years ago and I had a little more hair. What a way to start off in aviation!
I was 17 and you can see the brown spot underneath the wing which was Turco paint stripper. I stripped the paint off most of the airplane myself and that was not much fun for a 17 year old, but it paid off when we later found, etched into the aluminum skin, the letters: CF-TCC.
Bud Clark, who was a former childhood friend of my father's, purchased the airplane from a church that was using it to do mission work in the Caribbean Islands. Bud had been involved in purchasing classic aircraft and I spent my early years working on several of them like a FG-1D Corsair, WACO UPF-7, a Stinson SM-8a and of course N3749 which originally was and is again CF-TCC. We flew the Lockheed to Harlingen, TX in 1977 to the CAF air show and had a fellow come up & tell us that he was an employee at Air Canada and that N3749 was once operated by Trans Canada.
Long story short, in 1984 Bud sold the plane to Air Canada as they were preparing for their 50th anniversary. I corresponded with the pilots that were flying it, but foolishly I never made to Winnipeg to see 'er and now I see she's flying again to commemorate the 80th anniversary! I really would like to go up to Canada to see 'er if you have any information about how I can do that, please feel free to contact me. My contact info is in the directory."
Thanks for sharing your story. Paul.
The pilots who flew TCC to YWG were Bud Clark....the owner and Captain Ray Lank, a DC-9 pilot based in Montreal.
Ray did the initial cross Canada tour with Captain John (Jean) Gilbert....both long retired...Ray now in rehab due to a stroke in August. This year's tour was over by the time we had this exchange, but Paul is invited here the next time TCC goes on show.
Cheers...Dave
Click Here for a Vimeo video history of TCA/Air Canada as posted by Greg Edward.