1982 –
April 24 - Scheduled service between Canada and Havana was suspended.
June 2 – Non-stop service between Toronto and Victoria commenced with Boeing 727 equipment.
---

From the "Horizons" magazine issue dated March 1982.
February 1, 1951 - Service to Fredericton commenced with DC-3 equipment.
Fredericton was a station stop on Maritime routes to Montreal. Eventually DC-3's gave way to the Vickers Viscount until April 27, 1974 when service was upgraded to DC-9 equipment.
---
Hosted by Montreal ACRA, 20 presidents met with the Personnel branch to review the operation of the Air Canada Recreation Association's and exchange ideas on the selection and administration of employee sporting, cultural and social activates.

In our group photo, from the left are: Gisela Hoppert, Frankfurt, standing in for Klaus Berg; Keith Merry, London, England; Bob Brown, St. John's; Frank Jones, Sydney; Brian Murray, Halifax; Rachelle Gallant, Moncton; Joe Holmes, Saint John; Andre Claveau, Quebec City; Diane Drury, Montreal; Bernie Miller, V.P. Personnel; Norm Card, Ottawa; Al Davidson, Toronto; John O'Hare, London, Ontario; Gary Hughes, Thunder Bay; Margaret Livingstone, Winnipeg; Rob Love, Regina; Bob Bateman, Saskatoon; Karen Sargeant, Edmonton, for Jenny George; Debbie Johnston, Calgary; Cory Smith, Los Angeles and George Agnew, Vancouver
---
In the fall of 1981, British Airways announced the withdrawal of passenger service from Prestwick. Local Air Canada employees saw the announcement as an opportunity on the Toronto-Prestwick route with DC-8 service scheduled for mid-January 1982.
After the inaugural flight, the product launch was rolled out with the assistance of Calgary husband and wife duo, Brock and Mary Jo, and their act with an hour long show.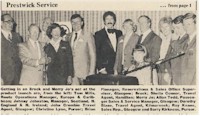 In this photo, from the left are: Tom Mills, Route Operations Manager; Johnny Johnson, Manager, Scotland, N. England & N. Ireland; John Crombie; Christine Lynn, Purser; Brian Flanagan, Reservations & Sales Office Supervisor, Glasgow; Brock; Sheila Conner, Merry Jo; Allan Todd, Passenger Sales and Service Manager, Glasgow; Dorothy Blane; Roy Keane, Sales Rep., Glasgow; and Barry Kirkness, Purser.
---
DFW's Longhorn Express takes off.
The Dallas/Fort Worth airport staff started the new Longhorn Express service earlier in 1982 with Stetsons and yellow roses. The service featured business class on two flights daily.
In our photo from the left: Linda Price, Judy Blair, Frank Pesce and Lynita Rogers.
---
Engines across the Atlantic in style.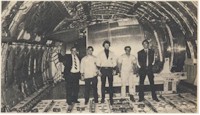 The company made history when it became the first airline to transport an RB211 Rolls Royce engine in the upper deck of a B747 Combi.
On February 6, 1982 Purchasing and Supply was advised that Air Lanka was removing an engine from a L-1011 in Frankfurt and needed a replacement spare. The removed engine had to be returned to Montreal for repairs. The serviceable engine was trucked from Dorval to Toronto for loading onto Fin #306 being used for AC870 to Paris departing Monday the 4th and Crewed by Captain Tom Reid, First Officer Dave Lamb.
AC870 landed in Paris on February 5, 1982. After the engine was unloaded it was trucked to Frankfurt and the unserviceable engine brought to Paris for shipment by AC871 on February 11th. Upon arrival at Toronto, the engine was trucked to Dorval.
In our photo we have, from the left: Project coordinator Fred Stanbra and Station Attendants J. Gold, R. Capogna and R. Murphy with Lead Station Attendant Don Moody.
---
From the "New Horizons" magazine issue dated December 2004. (With permission)
December 4 - New e-travel platform, operated by Amadeus, was installed on the aircanada.com web site.
December 17 - Service Calgary - Phoenix commenced.
December 18 - Service Toronto - St. Maarten/St. Martin started.
B767 fin 611 was parked in the Mojave Desert in Southern California since August 2002, and fin 621 was parked there in June of 2003. Due to growing international service, fin 611 was returned to service December 2004, and fin 621 in January 2005.
---
Issue dated February 2009 (with permission)

Last four engine flight; flight 865 from London (LHR) to Montreal (YUL) on November 20th, 2008 marked Air Canada's last "four engine" commercial flight operated with A340 aircraft. Air Canada took delivery of the first A340 fin #981 CF-TNQ on June 5th, 1995 and amassed a total of 12 aircraft in this fleet. Two versions were used, the A340-343 and A340-500.
---
Goodbye B767-200.

Air Canada says goodbye to the B767-200 on November 2, 2008 with flight 156, the red-eye from YVR to YYZ, the last commercial flight operated with this aircraft type. Air Canada took delivery of fin #601, the first B767-200, on October 30, 1982 and had a total of 23 aircraft in its fleet.
---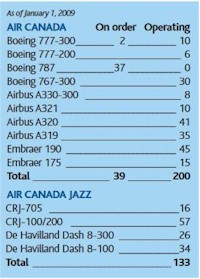 In January 2009, this was the list of the fleet for Air Canada.
Brian Dunn maintains a current & historical fleet details Here.
---
Issue dated March 2009. (with permission)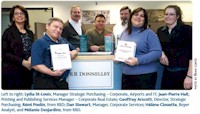 Air Canada recently extended its successful partnership with RR Donnelley for five more years. Chicago-based RR Donnelley (RRD), one of the world's largest commercial print solutions companies, supplies Air Canada with a wide range of print products and related services, notably all of our ACF numbered documents, and even more notably at least 50 items without which an aircraft would remain grounded. Airplane on ground (AOG) items include boarding passes, tickets, baggage tags and maintenance log.

In this photo from the left are: Lydia St-Louis, Manager Strategic Purchasing - Corporate, Airports and IT; Jean-Pierre Hall, Printing and Publishing Services Manager - Corporate Real Estate; Geoffrey Arscott, Director, Strategic Purchasing; Remi Poulin from RRD; Dan Stewart, Manager, Corporate Services; Helene Clouette, Buyer Analyst; and Melanie Desjardins, from RRD.