Spreading their Wings
Soon after the war a new Empress of world travel was to make its debut. Grant McConachie, the unquenchable airline enthusiast and William Neal, who had succeeded to the presidency of the company, had won a major victory. They persuaded the government to allow Canadian Pacific not only to continue to fly, but to fly to the Orient and Australia as well.
The first overseas flight of the Empress of the air was in 1949. New destinations were quickly added until, six years later, Canadian Pacific flew 22,000 miles of routes to five continents. But the hoped for right to fly to destinations across Canada was still denied.
(Source: Canadian Pacific "COMPRESS" magazine 1981)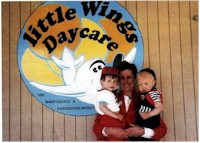 The Little Wings Day Care Centre at Vancouver, a special project of M & E, opened in November of 1991.
It is staffed by licensed day care workers and has a capacity for 24 children. Studies are being conducted to determine if day care centres are feasible at Calgary and Toronto. M & E also sponsored the startup of carpooling and van pools in Vancouver.
Coordinator of both special projects is complex clerk Marg Bantield, with Dylan King (2 years), and Sean Varley (18 months), at the opening of Vancouver Little Wings.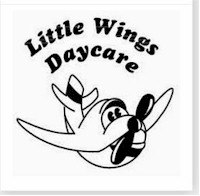 Following is from the Little Wings Day Care Centre web site
Little Wings opened in November 1991 as an Infant/Toddler Centre created as an initiative of the Maintenance and Engineering Department of Canadian Airlines International.
After Canadian Airlines disbanded, Little Wings continued to operate in leased facilities on Air Canada property adjacent to YVR.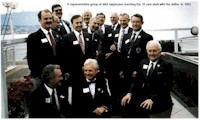 Pictured is a representative group of M & E employees reaching the 25 year mark with the airline in 1992, honoured at a dinner in April.
Standing from left: Eric Falkenberg, Shop Technician, Power Plant Overhaul; Keith Zinger, Lead Stockkeeper; Gordon Bell, Lead Stockkeeper; Ivan Slatten, Station Attendant, Cargo; Gary Simpson, Supervisor, Quality Assurance; Bob Zeiler, Shop Technician, Aircraft Maintenance; Rex Nightingale, Lead Stockkeeper; Ron Hutchison, Lead Avionics Technician; Tony Dunn, Foreman, Structures Shop, all of Vancouver; and Sidney Gough, Supervisor, Quality Assurance, Calgary.
Seated, from left, Bill Hadfield, Supervisor, Line Maintenance, Toronto and Al Bostjancic, Foreman. Structures Shop; Pete Evans, Crew Chief, Line Maintenance, both from Vancouver.