We have this photo of the 2017/2018 Pionairs officials for the USA, Caribbean & Latin America District.
(Source: Pionairs USA district newsletter, Winter 2017)
---
Found in the "Horizons" magazine issue dated August 1982.
Nordair Ltd of Dorval secured a contract to modify ten Boeing 737 passenger aircraft belonging to People Express Airlines of Newark, N.J.
The project involved strengthening of the aircraft structure enabling the planes to take on additional fuel. This will increase their range and improve fuel efficiency. The $5 million contract marks Nordair's initial major maintenance contract.
---
"Bloeing 747" finds a new home.

The Air Canada balloon, better known as the "Bloeing 747" has been turned over to the "ACE Fly-in". For a fee, fly-in officials plan to make the balloon available for company events, (promotional or ACRA) with the approval of the Vice President of the area in which it will be used. (does anyone have a photo?)
---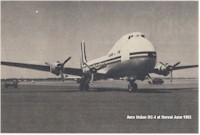 In June, Canadian Liquid Air Ltd sent a 12,500 pound tank measuring 60 foot long by 32 inches diameter from Dorval to Louisiana. This was not exactly startling news, but the aircraft chartered to do the flight attracted a lot of curious glances from Air Canada cargo people who supervised the loading and stowing of the tank aboard the Aero Union DC-4. The DC-4 had been modified, making it resemble a jumbo jet's little props cousin and renamed to become an ATL-98 Carvair . Some employees at Dorval and in Atlantic Canada might remember that Eastern Provincial Airways owned two of the aircraft in the early '60s.
Further information on this aircraft will be in an upcoming NetLetter.
---
Issue dated January 1983.
Here we have this follow up to the story in NetLetter #1383, ''Wings of Life''.
In August, Don Muir, 26 and Andre Daeman, 22, went into the record books tor the fastest around-the-world flight in a single-engine aircraft, smashing the old record by 26 hours.
Their historic flight also raised funds for cancer research. A network of employees working under the banner ''Wings of Life'' were the driving force behind the daring duo. "Wings of Life" is a non-profit organization established last year to sponsor unusual or challenging aviation events as a way of raising funds for medical research.
---
Issue dated June 2005. (used with permission)
June 2, 2005, service between Toronto and Beijing non-stop commenced.
June 16, 2005, daily flights from Toronto to Dublin, Glasgow, Manchester, Amsterdam and Zurich began.
---
Issue dated July 2005. (used with permission)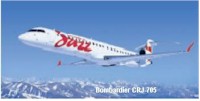 On May 27, 2005, Air Canada Jazz took delivery of the first of 15 new Bombardier CRJ-705 at a ceremony at the Bombardier facility near Montreal.
Air Canada Jazz is the world's first operator of the Bombardier CRJ-705. Commercial service began with a positioning flight from Toronto to Winnipeg on May 31, 2005, then on to Calgary to begin regular service on June 1, Calgary to Houston. July 1, CRJ-705 launched the Toronto - Houston route and Toronto – Dallas route on August 1.
---
B737 donated to Edmonton Museum.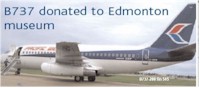 An Air Canada B737-200, fin 545 painted in its original 1970's Pacific Western Airlines livery, took its place of honour at the Alberta Aviation Museum in Edmonton on June 17, 2005 together with the logbook. The fully-operational aircraft will be used to enhance education opportunities of students throughout northern Alberta, students attending the Northern Alberta Institute of Technology and a safety vehicle for the Edmonton police and RCMP.