From the Air Canada NAVI magazine.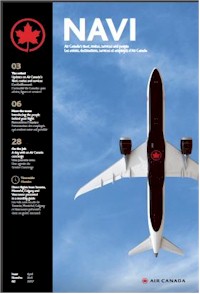 On the left we have the April cover page.
Employees pictured below are:
Front row: Uma Doma, Marlanne Samaan, Jyoti Patel, Nori Yanagisawa, Leticia Mori, Luke Hendrie and Nidia Carriet Moreno.
Back row: Sebastian Cosgrove, Alan Gilchrist, William Batson, Arcadio Parinas, Andy Park, Philip Brennan, Andrew Kung, Paul McGowan and Rishi Purani.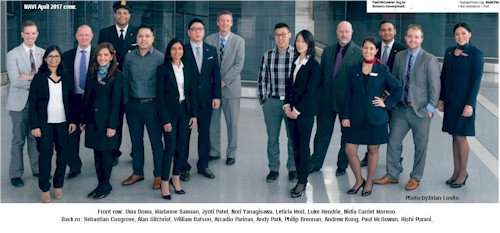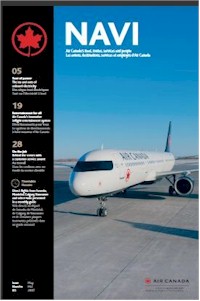 On the left we have the May cover page.
Below is a photo of the crew.
Front row: Derek Whitworth, Angela Susann, Seth Hilarice, Chantal Dugas, Nicole Wilczynski, Karen Sachse, Bobby Singh and June Iris Hughes.
Back row: Sean Maharaj, Michelle Young, Kerianne Wilson, Amanda Bruna, Jules Arsenault and John Hodder.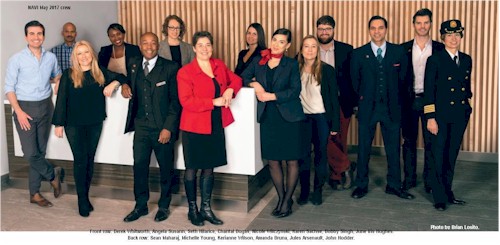 ---

From the "Horizons" magazine.
Issue dated September 1982.
1982 was the third year in a row that the company operated Hadj charters for Royal Air Maroc. The operation was from September 1 thru October 21.
"Hadj" refers the annual pilgrimage to Mecca made by Muslims throughout the world. The charter covers Moroccan pilgrims travelling from Casablanca, Fez and Agadir in Morocco to Jeddah in Saudi Arabia.
---
Issue dated November 1982.
With the arrival of a B-767-233, fin #601 C-GAUB c/n 22517 at Montreal on October 30th, 1982, Air Canada became the first carrier outside the United States and the first airline in Canada to take delivery of the 767 aircraft. The pilots were Captain Dave Walker assisted by Captain Rodger Miners.
The cabin crew members who worked the delivery flight of the 767 posed with President Claude Taylor during a pause in their duties.

From the left, back row are: Flight Attendants Jurgen Odefey and Marlene Godber; Taylor; Flight Attendant Cory McAdam.

In the foreground are Leonard LafIeur, In-Charge Flight Attendant and Flight Attendant Helen Reagh.

Except for Leonard, the other flight attendants formed part of the galley design committee who worked closely with the manufacture during the construction phase.
A number of employees representing a cross-section of occupations were invited to participate in the first delivery flight as guests of the company, and for them, it was an event to remember.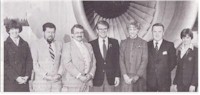 Shown with President Taylor in front of one of the 767's huge engines are:
From the left: Shirley Campbell, Secretary, Halifax; Larry Nurch, Station Attendant, Toronto; Doug Slade, Cargo Agent, Vancouver; Taylor; Pierrette Venturini, Passenger Agent, Montreal; Marc Lefebvre, Certified Avionics Technician, Dorval and Marlene Godber, Flight Attendant, Calgary.
---
Issue dated August 2005. (Used with permission)

New services by Air Canada and Air Canada Jazz.

- October 30, Calgary - Ft. McMurray two flights daily by Jazz with all-jet service.
- December 1, Calgary - Newark daily non-stop operated by AC with E190s.
- December 17, new non-stop services commencing between Vancouver - San Diego daily flights with Jazz CRJ-705.
- Toronto - Abbotsford daily service using E190s.
- Calgary - Abbotsford 3 daily fights with Jazz CRJ-705.
- Montreal - San Francisco daily by AC using A319.
- Ottawa - Orlando daily during winter season by AC using either E190/E175/A319.
- Calgary - Orlando weekend operation during winter season by AC with A319s.
- February 4, Toronto - Kelowna daily operated by AC using E190s.
- Edmonton - Regina 2 daily non-stops with Dash 8-100s.
- Edmonton - Saskatoon 2 daily non-stops with Dash 8-300s.
- September 18, Hamilton from Montreal and Ottawa with CRJ-200s.
---
Air Canada launches Toronto - South Korea flights.
The first non-stop flights between Toronto and Seoul, South Korea took off July 1, 2005. Here we have a photo of Customer Sales and Service Agents dressed in traditional Korean Han Bok to celebrate the inaugural flight of AC065 from Toronto to Seoul.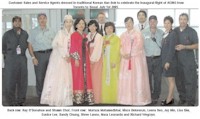 Back row: Ray O'Donahue and Shawn Choi.
Front row: Murtaza Mohamedbhai, Vince Delorenzo, Leena Seo, Jay Min, Lisa Sim, Eunice Lee, Sandy Chung, Steve Lanno, Anna Leonardo and Richard Wegrzyn.
On the arrival of the inaugural flight in Seoul, the cabin crew posed for this photo.


Standing: Young Lee, Thelma Stefanuk, Corene Parr, Gillian Poulton, Judy Woodward, MiKyung Clochesy, Connie Regan, Christine Lee, Frederick Herbert, David Young and Don Hur.
Kneeling: Yunsil Park, Brian Park and Anita Chan.
---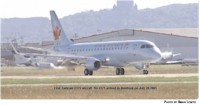 Air Canada's first Embraer aircraft arrived in Montreal on July 20, 2005. The E175 underwent preparation for its July 27, 2005 service launch.
The aircraft, fin #371, made its inaugural flight on the Toronto - New York (LGA) route.