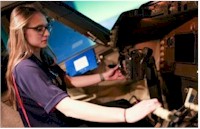 United Airlines has created a new program with Metropolitan State University of Denver to identify talented student pilots and place them on a path to possibly fly for United.
Regional carriers have offered similar programs in recent years, but this will be the first time a major U.S. airline has established a partnership with a university aviation department, according to United.
The partnership doesn't guarantee students a future job, but if they meet a checklist of requirements over several years, they will be in line for an opportunity.
(Source: avwebflash February 6, 2018