Deanna (Dee) Brasseur is one of the first women to be trained as a Canadian Forces pilot.
Dee joined the military in 1972. After months of listening to the dental drills as the administration clerk in the Dental Clinic, Dee decided she was not "Being all that she could be," and applied for a commission. Her posting to North Bay as an Air Weapons Controller put her in contact with many pilots and several jet aircraft and after two orientation rides in 1978 Dee started taking lessons to obtain her private pilot license.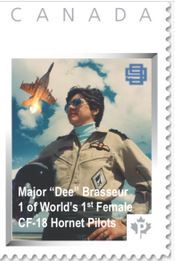 Shown is an image of a special issue stamp celebrating her achievements. When the military started a trial program for women pilots in 1979, Dee was one of four women selected for the program. Following wings graduation in 1981 Dee became the first and only female instructor.
However not until her remarkable emergency forced landing following an engine failure at night, did she feel truly accepted by her male colleagues. In 1988 at age 35 she was one of two women accepted for fighter pilot training. Again in the public eye, and constantly compared with young men, Dee excelled. After completing the training, she was posted to 416 Squadron Cold Lake, AB where she flew her "dream" – the CF-18 Hornet!
In 1994, after 21 years, Dee retired from the Canadian Armed Forces.
(Source: canadian99s.com)
More information on Major Brasseur at Wikipedia, YouTube and the Ottawa Citizen