Larry Milberry has sent us advice that his CANAV's new Spring-Summer 2018 booklist is out. Click Here to view the PDF document.
Check out CANAV's blog at www.canavbooks.wordpress.com. The current item covers Thunder Bay Int'l Airport YQT and a Norseman update.
Next to come will be updates regarding aviation in Sioux Lookout and Red Lake.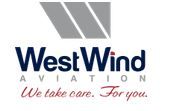 The company offers not only scheduled passenger services, but fishing charters, surveying work, forest fire fighting, and medevac operations. On July 1, 2016. The company became a subsidiary of West Wind Aviation, which was founded in 1983.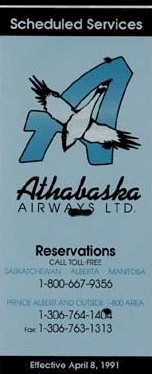 Athabaska Airways Ltd timetable effective April 1991.
(from collection of Don Henchel)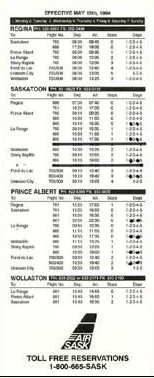 Air Sask timetable effective May 1994.
(from collection of Bjorn Larsson)
Boeing's 737 Sets World Record
Boeing has produced 10,000 737 aircraft, setting a world record for the most-produced model of a commercial jet aircraft ever, the company said this week. Guinness World Records has certified the record. The aircraft first flew in 1967, and has been continuously revised and updated. It is operated by more than 500 airlines, and flies to destinations in 190 countries.
737 Facts
A 737 takes off or lands every 1.5 seconds
At any given time, there are 2,800 737s in the air.
The 737 has flown more than 122 billion miles, the equivalent of 5 million times around Earth.
More than 22 billion people have flown on a 737.
The latest version of the airplane, the Max 9, was certified last month. Boeing said the 737 Max version is the fastest-selling airplane in its history, with more than 4,300 orders from 93 customers worldwide.
(Source: Boeing MediaRoom March 13, 2018)