Found in the "Horizons" magazine.
Issue dated June 1982 - Dorval hangar fire.
Company investigators are looking into the cause of a fire that gutted the fuselage of DC-9 CF-TLY fin #724 c/n 42200 which was delivered July 11, 1968 and was being overhauled in a hangar at the Dorval base on June 2, 1982. The DC-9 was worth about CDN $5.5 million and considered a complete write off.
The fire broke out in the centre overhaul hangar shortly after 11:00 a.m. The hangar's sprinkler system, which emits a chemical foam, was immediately activated and all the personnel evacuated.
Two other aircraft, another DC-9 and a DC-8, were also in the hangar at the time of the fire but little damage was done to either aircraft.
---
Issue January 1983 - P&S/P&F keep up the tradition.
Purchasing & Supply and Properties & Facilities of Dorval kept their tradition going by making 1982 the 12th year in row for their Christmas drive. In all $807.22 was collected, despite the hard economic times. The money was used to purchase educational toys for children from the Friendly Home, Peter Hall and the Douglas Hospital. Special thanks from Cy Haines went to all the canvassers, wrappers and drivers.

Here is a photo of the hard working members of the wrapping crew, from the left: Debbie McCallum, Brenda McKinnon, Gail Cawson, Debra Baverstock, Ian Wilson and Lucie Chabot.
Missing from the group was Ted White.
---
New Intercontinental service began February 1, 1983.
Here is the advertisement providing a preview of the amenities passengers travelling on these routes received.
---
Issue dated February 1983.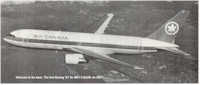 Our first B-767 fin #601 entered full service as AC117 on February 14, 1983 as Toronto - Calgary returning as flight AC120 Calgary-Toronto-Montreal.
On March 1, 1983 the second B-767 received, Fin #602 operated flight AC757 Toronto-San Francisco then San Francisco-Toronto as flight AC756. Fin #601 and 602 have been flying Montreal-Toronto Rapidair and training flights since mid-January.
The photo is Fin #601 at Dorval from the "Parts & Pieces" magazine issue February 1990.
---
A multi million contract was secured with Enterprise Travel, a wholly-owned subsidiary of Aer Lingus in Dublin to operate its 1983 Canadian charter program which ran from May through September using an Air Canada B747.
Sixteen round trip charters Toronto-Dublin-Belfast-Shannon-Toronto were involved.
---
Maple Wings lend a hand.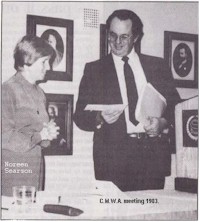 At the second annual meeting of the Canadian Maple Wings Association - a group of former TCA and Air Canada Flight Attendants - a cheque for CDN $1,000 was presented to the Hospital for Sick Children's Foundation.
Claus Winsi, president of the foundation, who was guest speaker at the meeting, accepts the cheque from Noreen Searson, Treasurer, Maple Wings.
---
Issue dated March 1983.
The official opening of the new 65,000 sq ft hangar in Winnipeg took place during February 1983. The structure, costing CDN $11.3 million, will be used initially for major maintenance of the B-727 fleet.
---
In 1963, 75,000 kilograms of artificial flowers were loaded onto a ship travelling from Hong Kong to the Western Canada port of Vancouver. There, the massive bouquet was transferred to several freight and passenger aircraft bound for New York. Air Canada called this hybrid shipment the world's first Sea-Air movement, and marketed the service on the virtue of "all the cost of all-sea, at half the cost of all-air".
---
Chow mein cargo charters.
Since May 1982, Air Canada has been running what has been dubbed chicken chow mein cargo charters. Each Sunday, a DC-8 freighter carried 41,000 kilos of fresh oriental produce from Santo Domingo to Toronto. Chinese farmers in Santo Domingo grow oriental vegetables for export to Canadian grocery stores for use in the Chinese cuisine.
---
When Captain Mike Furgala retires in July of 1983 the event marked the last retirement of the World War II pilots hired by Trans-Canada Air Lines. Mike joined TCA in November 1946.
---
Vancouver veterans honoured.
Take 273 and divide by 8. That comes to nearly 35, which is the average length of service for this group of Vancouver Passenger Service employees. Joining the retirement party held in honour of the seven passenger agents and one passenger service supervisor were Don Wood, Passenger Service Manager and Dunc Laing, retired VP Western Region.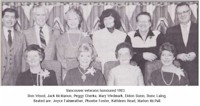 In the photo, standing, from the left: Don Wood, Jack McManus, Peggy Cherka, Mary Wedmark, Eldon Gunn and Dunc Laing.
Seated are: Joyce Fairweather, Phoebe Foster, Kathleen Head and Marion McPail.
---
Issue dated April 1983.
During his tour of the Caribbean stations, President Claude Taylor dropped into Antigua and here we have a photo with the staff. Time out for a group shot with the staff.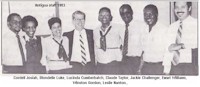 From the left: Cordell Josiah, Senior Customer Service Agent; Blondelle Luke, Secretary; Lucinda Cumberbatch, Customer Service Agent; Claude Taylor; Jackie Challenger, Senior Customer Service Agent; Ewart Williams, Customer Service Agent; Winston Gordon, Customer Service Agent and Leslie Nanton, Manager, Antigua.
---
All smiles from Haiti.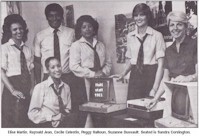 Jean-Marc Trottier, newly named District Manager, Haiti, is proud of the new facilities at Port-au-Prince. Equally proud are his smiling colleagues, pictured from the left, with the new ReserVec II installation. Elise Martin, Raynald Jean, Cecile Celestin, Peggy Halloun and Suzanne Dussault. Seated at the computer terminal is Sandra Corvington.