Jim Goltz sends us this correction to the information in NetLetter #1388 -
Hi Guys: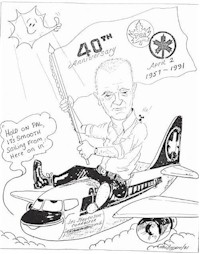 The 'smiley' in this month's issue, may be for Les Stevenson's 40th anniversary, not Air Canada's (1977) Les was a 'Lead' in YYZ stores.
Cheers, and thanks for the great publication.
Note: This caricature of Les was drawn by stock keeper, Ken Biggars, who contributed many caricatures to "Parts & Pieces" as well many others for various co-workers, over his career. Ken's talent and wonderful sense of humour are evident in all his work.
Both Les and Ken started at YUL and had transferred to YYZ by 1980 when I started and had the pleasure of working with these two gentlemen.
I would very much appreciate any news concerning their current status.
Thanks, Wayne