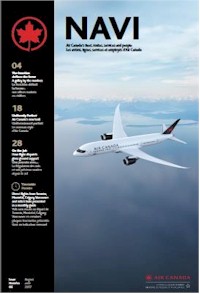 Air Canada NAVI magazine was launched in March 2017. On the left we have the issue for August, 2017 cover page.
Below is a photo of the crew.
Front row: Marion Shay, Angela Mah, Bonnie Walker, Alanna Kathleen Chan, Janette Dramstad, Candice Widdington and Amrik Bening.
Middle row: Jayne Willis, Tertius Serfontein, Lorna Holmes, Kevin Howlett, Bill Devlin, Shielane Khera, Valinda Leitner, Jeff Feldman and John Oneill.
Back row: Andrew Moore, Taylor Shaw, Mark Gordonsmith, Glynne Wilson, Anna McMurdo, Herman Yee, Kaila Henly, Charanjit Brar, Patrick Holler and Dana Konings.

---
Betty Draper sent us an article on Steve Abulet, which we checked out on the internet and extracted this portion -
Steven Stanley Abulet:
In April of 1939 he joined Trans-Canada Air Lines. He started in the airline as a First Officer but by September of 1939 he and Jack Crosby were teamed up for promotion. In March 1940 they were both promoted.
In his first years as Captain Steve flew the prairies as far west as Lethbridge and, on occasion, Winnipeg east as far as Montreal. In 1944 he got a place on the CGTAS but before he could take a flight he was asked to return to Winnipeg to run the flying school.
He used to spend his holidays flying in the bush for Lamb Airways and, in fact, this is how he started his son, Jeff, in the flying business.
In 1943, on his days off in Winnipeg, Steve would instruct for the Company. In one month he logged 175 hours. From 1944 until his retirement in 1969, Steve flew the Atlantic for TCA and then Air Canada flying Avro Lancastrian, North Star, Lockheed Super Constellation, and Douglas DC-8 aircraft. He only had one orientation flight to Prestwick, Scotland, and back to Montreal before taking over as Captain.
Click Here for a full history of Steve has been put together by Ron C. Johnston.


---
Raptors Take Flight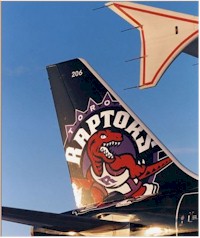 Air Canada became the official airline of the Toronto Raptors in 1996. It took Toronto's 23-person paint crew seven days of round-the-clock shifts and some 45 gallons of paint and primer to get the Raptor just right.
Aircraft painter Dennis Chislett admits: The hardest part to get right was the Raptor's teeth and claws on the plane's tail."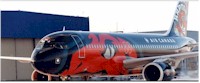 Here we have these photos of the Raptor paint scheme in 1996 on C-FDSN fin #206 c/n 0126.
Source moments.aircanada.com
---
Found in the "Between Ourselves" issue dated October 1963.
First jet freight service for Canada inaugurated by company coast to coast.
On October 28, 1963 this service was inaugurated with DC-8F Jet Traders capable of carrying up to 45,000 pounds of cargo providing service between Montreal, Toronto, Winnipeg, Edmonton and Vancouver five week days a week. The DC-8F had mixed freight/passenger configuration.
---
Found in the "Horizons" magazine issue dated April 1983.
Dusseldorf rejoined the Air Canada route on April 24, 1983 after an absence of 17 years.
---
Pacific Southwest Airlines plans purchase of four DC-9-32 from Air Canada.
The cost of each aircraft is approximately USD $6 million.
Three of the aircraft had been sold to Philadelphia-based Altair Airlines in July 1982, three had been delivered before Altair ceased operations and the aircraft were repossessed, in November 1982. The fourth aircraft was not delivered to Altair. All four of the aircraft were then sold to PSA.
(Our records show the following delivery dates - eds)
CF-TLI fin #708 c/n 45846 sold to Altair Airlines July 16, 1982 repossessed, then sold PSA 27 April 1983.
CF-TLK fin #710 c/n 47020 sold to Altair Airlines July 28, 1982 repossessed, then sold PSA 27 April 1983.
CF-TLP fin #715 c/n 47068 sold to Altair Airlines July 16, 1982 repossessed, then sold PSA 25 May 1983.
CF-TLN fin #713 c/n 47023 sold to Altair Airlines not taken up, sold to PSA July 1, 1983.
---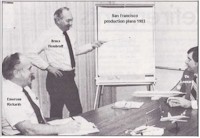 There is a small plaque located on one wall of the District Sales Office in San Francisco that in many respects symbolizes the station's continuing dedication and energy as it seeks to enlarge Air Canada's presence in an area dominated by massive and intense competition.
The plaque pays tribute to the district's 42 employees who during the years 1979, 1981 and 1982 recorded the highest percentage participation for the U.S. and Southern Region in the airline's annual charitable appeal for funds. It is a record of which District Manager Vic Leonard a 23 year veteran of the airline is proud. Vic presided over the Bay City operation since March 1979, when the company inaugurated the Toronto - San Francisco service. Here we have a photo with, from the left:
Emerson Richards, Sales Rep; Bruce Hembroff, Passenger Sales Manager and Vic Leonard District Manager discussing product promotion plans.
(Does this plaque still exist? – eds)
---
The delivery of the company's fourth 767 on March 31, 1983 was a milestone in the airline's history.
The aircraft was the 50th Boeing airplane purchased by Air Canada. ln honour of the occasion, Richard W. Welch, President of the Boeing Commercial Airplane Company in Seattle, sent the following message to President Claude Taylor.
"Today, Air Canada took delivery of its fiftieth Boeing jetliner. Beginning in 1971, seven B747's, thirty-nine B727-200's and, as of today, four B767's have left our factories painted in the Air Canada livery. I wish to acknowledge Air Canada's contribution to the success of these three programs and to offer my personal thanks to you and your employees for the confidence in our products that you have demonstrated."
---
From the YUL "Parts and Pieces" magazine issue dated May 1990.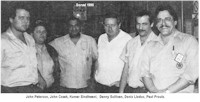 Since we do not often get to see the guys on the midnight crew, we thought that we would run a picture of the energetic group.
(Left to Right): John Paterson, John Cozak, Kumar Sindhwani, Danny Sullivan, Denis Leduc and Paul Proulx.