Bearskin Airlines began as a humble operation founded in July 17, 1963 by Otto Heglund, a pilot and free trader.
With hard work and dedication, Heglund's original fleet (consisting of a single Tiger Moth biplane) expanded.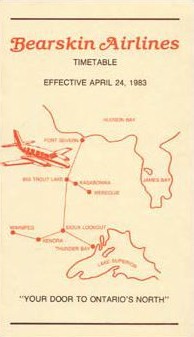 By 1999, it had a fleet of thirty aircraft operate a variety of scheduled, chartered and contract services to the major cities of Northern Ontario and many smaller communities. Here we have the timetable issue April 24, 1983.
(From the David Zekria collection) (Source: BearskinAirlines.com)
Doug Keller sends us a link for a unique tour involving short flights on various Russian aircraft in North Korea.
'Back in the DPRK': Grand Aviation Tour 2018
Juche Travel Services is proud to announce that it is 'Back in the DPRK' to take part in the Grand Aviation Tour from the 16th – 20th October 2018! Flying on Ilyushin Il-18, Il-62, Il-76, Tupolev Tu-134, Tu-154, Tu-204, Antonov An-24, An-148, Mil-17, and Microlites. Whilst also visiting Pyongyang / Kaesong & DMZ / Mount Myohyang.
It is possible to reach the DPRK from a variety of places in China and Russia. However, Beijing is generally the preferred option for tourists due to the larger number of departures, as well as being an international transport hub for those arriving from overseas.
Roundtrip Seattle Sailings:
Oceania Regatta (5*) - 10 nights
Seattle, WA | Cruise Inside Passage | Ketchikan, AK | Juneau, AK | Skagway, AK | Cruise Hubbard Glacier | Hoonah, AK | Sitka, AK | Cruise Outside Passage | Victoria, BC | Seattle, WA
July 23 - Inside $1500, Outside $1750, Balcony $1900
Oceania Regatta (5*) - 7 nights
Seattle, WA | Cruise Inside Passage | Ketchikan, AK | Cruise Tracy Arm Fjord and Sawyer Glacier | Sitka, AK | Prince Rupert, BC | Cruise Outside Passage | Seattle, WA
August 9 - Inside $945, Outside $1050
Celebrity Solstice (5*) - 7 nights
Seattle, WA | At Sea | Ketchikan, AK | Juneau, AK | Cruise Tracy Arm Fjord | Skagway, AK | Cruise Inside
Passage | At Sea | Victoria, BC | Seattle, WA
June 1 - Balcony $1348
June 8 - Inside $868, Balcony $1386
June 15 - Balcony $1423
June 22 - Inside $973, Balcony $1423
June 29 - Inside $936, Balcony $1461
Roundtrip Vancouver Sailings:
Celebrity Infinity (5*) - 7 nights
Vancouver, BC | Cruise Inside Passage | Icy Strait Point, AK | Cruise Hubbard Glacier | Juneau, AK | Ketchikan, AK | Cruise Inside Passage | Vancouver, BC
June 10 - Balcony $1597
June 17 - Inside $1011, Balcony $1447
June 24 - Inside $1048, Outside $1273, Balcony $1459
Do you have any questions or need more info about these and the many other cruises?
Contact Greg and Donna CALL US TOLL FREE at 1-877-760-2583 Email: This email address is being protected from spambots. You need JavaScript enabled to view it.