Hall Beach YUX was one of 42 radar stations constructed in the mid 1950s that stretched across the arctic from Alaska to Labrador, designed to monitor potential air traffic over the polar regions of North America.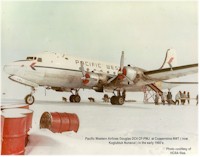 Pacific Western operated seven Douglas DC-3's and seven Curtiss C-46 Commandos during the 1950's and 1960's, with many of these aircraft used to transport vast amounts of air cargo to the sites during the construction of the Dew Line, and later during the resupply phase. Both aircraft types were considered workhorses in their day. Photo courtesy of Jim Kulak.
Pacific Western Airlines Douglas DC4 CF-PWJ offloading drum fuel and lumber at Coppermine NWT (now Kugluktuk Nunavut) N67'49" Latitude W115'08' Longitude in the early 1960's, with the assistance of local Inuvialuit residents and their dog teams.
PWA aircraft provided a resupply lifeline to communities like YCO up on the arctic coast and their arrival was always a cause for excitement in the remote isolated northern communities. Photo courtesy of HCRA files, from the "Canadian Pacific COMPASS" magazine issue 1981.