Montréal Saint-Hubert Longueuil Airport (IATA: YHU, ICAO: CYHU)
(French: Aéroport Montréal Saint-Hubert Longueuil), also called Montréal/Saint-Hubert Airport, is located in the Saint-Hubert borough of Longueuil, Quebec. The airport is located 16 km (9.9 mi) east of Downtown Montreal.
In operation since 1928, it was Montreal's first and only airport until the construction of Montréal/Dorval International Airport (now Montréal-Pierre Elliott Trudeau International Airport).
As of 2017, it is ranked as Canada's 15th busiest airport by aircraft movements. This airport mainly serves travellers to Quebec destinations.
On August 1, 1930, the R100 airship arrived after what was possibly the first non-stop passenger-carrying powered flight across the North Atlantic to land in Canada.
R100 departed for Canada on July 29, 1930, reaching its mooring mast at the St-Hubert, Quebec Airport (outside Montreal) in 78 hours, having covered the great circle route of 3,300 mi (5,300 km) at an average ground speed of 42 mph (68 km/h).
The airship stayed at Montreal for 12 days with over 100,000 people visiting the airship each day while it was moored there, and a song was composed by La Bolduc to commemorate, or rather to make fun of, the people's fascination with R100.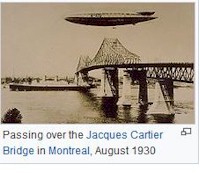 It also made a 24-hour passenger-carrying flight to Ottawa, Toronto, and Niagara Falls while in Canada.
The airship departed on its return flight on August 13, 1930 reaching Cardington after a 57½ hour flight.

Pascan Aviation is a regional airline based in Saint-Hubert, Longueuil, Quebec, Canada.

It operates scheduled services within Quebec and Labrador as well as charter services. Its main base is Montréal/Saint-Hubert Airport and it runs a fixed-base operator at the airport.
The airline was established in 1999 by Serge Charron. Since then, the company has established itself as an independent regional airline in Quebec and claims to be the largest in the province. Pascan connects 11 regions throughout Quebec and Newfoundland and Labrador.
Fleet: (3) ATR 42, (13) BAe Jetstream 3200, (4) Pilatus PC-12/45, (7) King Air.
(Source: Wikipedia and pascan.com)