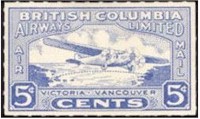 January 1, 1928 – British Columbia Airways Ltd starts a flying school at Lansdowne Air Field with three small training planes.
May 1928 – British Columbia Airways begins regular air service between Victoria, Vancouver, and Seattle. This is the first international air service in Western Canada.
(Source: flyvfc.com)
On August 25, 1928, BCA's Tri-Motor departed Lansdowne Field on its regular service to Seattle with seven passengers aboard. Flying into fog on the American side of the Strait of Juan de Fuca, the plane went down with all aboard off the mouth of Discovery Bay west of Port Townsend on Washington's Olympic Peninsula. At the time it was reported as "by far the worst catastrophe in the history of American commercial aviation".
BCA was completely exonerated for the crash though the commission recommended the use of seaplanes or amphibians rather than wheeled aircraft when flying over water from Victoria. It would be 15 years before another land-based aircraft linked Vancouver Island to the mainland.
(Source: www.victoriaharbourhistory.com)