Extracted from the "Horizons" magazine issue dated July 1983.
District Directors of Pionairs in 1983 -
Tony Butler, Victoria, B.C.; Douglas Armitage, Richmond, B.C.; Don Jarvis, Calgary, Alberta; Beth Ferguson, Winnipeg, Manitoba; Gord Smith, Toronto, Ontario; Mary Young, Ottawa, Ontario; Evelyn Desjardins, Montreal, Quebec; Tony Bruneau, Halifax, Nova Scotia; Roger Alain, Florida, USA.
---
U.S. Cargo Clan.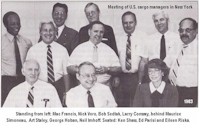 Ed Parisi, newly appointed Regional Cargo Sales & Service Manager for the U.S. & Southern Region, held a meeting with U.S. cargo managers in New York.
Standing from the left: Mac Francis, San Francisco; Nick Vero, Miami; Bob Sedlak, Chicago; Larry Conway, LAX; behind - Maurice Simoneau, Boston; Art Staley, Tampa; George Hoban, New York; and Neil Imhoff.
Seated from the left: Ken Shaw, Ed Parisi and Eileen Riska, secretary to Parisi.
---
Edmonton launches "Flow-Thru" check-in.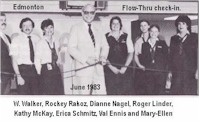 The first Flow-Thru check-in facility in the airline's domestic system was officially opened in Edmonton by Roger Linder, Senior V.P. , Marketing, Sales & Service, early June 1983. The counter facilities provide for smoother, more efficient passenger handling.
Pictured with Roger Linder, who is cutting the ribbon at the official opening, are from the left: W. Walker, Passenger Service Manager; Passenger agents Rockey Rakoz, Dianne Nagel, Kathy McKay, Erica Schmitz, Val Ennis and Mary-Ellen Renaud.
---
Issue dated November 2005. (with permission)
1975 – November 3, - first flight Montreal - Pointe-a-Pitre, Guadeloupe.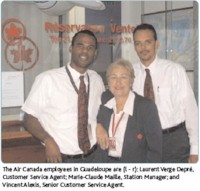 The Air Canada employees in Guadeloupe in 2005 were Laurent Verge Depre, Customer Service Agent, Marie-Claude Maille, Station Manager and Vincent Alexis, Senior Customer Service Agent.
---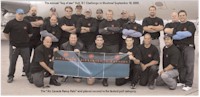 On Sunday, September 18, 2005, two teams of Air Canada employees took part in the seventh annual "Tug of War Defi 767 Challenge" in Montreal and placed in the top three.
The 767 Challenge pits the strength of a team of 20 people pulling against the weight of an Airbus 321 (72,767 kilograms or 160,767 pounds) over a distance of 3.7 metres (12 foot) in the minimum possible amount of time. The event took place at the Air Canada base and raised $27,853 for Special Olympics Quebec. Here we have photos of both teams.
The station attendant team called themselves the "Air Canada Ramp Rats" and placed second in the fastest pull category. Unfortunately, there are no names supplied.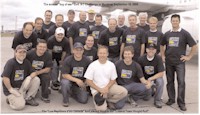 The pilots team were the "Les Papillons d'Air Canada" and placed third in the "Lowest Team Weight Pull". Unfortunately, there are no names supplied.
---
One thousand two hundred competitors met in Calgary during September 14 - 17, 2005.
The combined Air Canada and Jazz team, named the "Jetsetters", were represented by more than 70 members. A total of 15 awards were their fair share of the trophies available. With many different countries and airlines represented, the event takes on an international flavour of a spirit of competition and airline friendships.
Below are a few of the results (with time) for Air Canada participants. Click Here for the complete results.
5K Airline Women 30 to 34 - 3rd place - Aichinger, Sabine - 00:26:50:3
5K Airline Men 50 to 54 - 2nd place - Russell, Cliff - 00:19:20:5
5K Airline Men 55 to 59 - 3rd place - Robichaud, Raymond - 00:20:24:3
5K Airline Women 55 to 59 - 1st - Stibbard, Joan - 00:27:59:5
5K Airline Team Trophy Results
5K Airline Men Master - 3rd - Air Canada - 120 points
10K Airline Team Trophy Results
10K Airline Men Master - 3rd - Air Canada - 63 points
10K Airline Women Master - 2nd - Air Canada - 387 points
Participating Trophy Results
Category A - 1st Air Canada - 18798 points.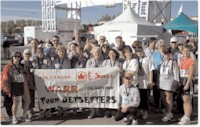 Here we have the members from the "Jetsetters". Unfortunately, no names were provided.
---
Issue dated December 2009/January 2010. (with permission)
Improving customer service during Irregular Operations. New SMS/Email communications and self-service re-booking tool launched.
Customer and employee feedback after the 2008 Christmas IROPs indicated we had a lot to improve upon when it came to communicating with and assisting our passengers during irregular operations. In many cases, customers had difficulties getting the latest status on their flight and/or re-booking options. Instead of receiving timely information proactively, customers faced either long lineups at the airport, or long waits in the Call Centre queue.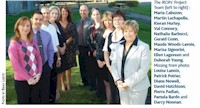 Here we have this photo of the project team.
Left to right: Maria Cabezon, Martin Lachapelle, Kieran Hurley, Val Connery, Nathalie Barbucci, Gerald Gunn, Maude Woods-Lavoie, Marisa Signorini. Ellen Lageveen and Deborah Young.
Missing from the photo: Louise Lanoix, Patrick Poirier, Diane Newell, David Hutchison, Pierre Padlan, Pamela Bardo and Darcy Noonan.