After noting the coming events in NetLetter #1393, Hugh MacCallum decided to send us this information -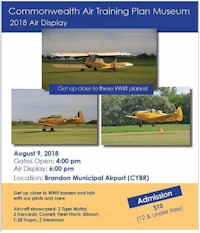 Commonwealth Air Training Plan Museum 2018 Air Display.
Location: Brandon Municipal Airport (CYBR) - August 9, 2018.
I'm flying YYJ/YBR/YYJ on August 9 to 14th to visit my daughter in Dauphin, MB, and specifically to have a look-see at the BCATP Brandon Aviation Museum and I shall be able to meet Jeff Bell who flies the Harvard & Cornell. Because my time is limited & only WestJet Encore serves CYBR, I'm flying WestJet both ways.