After John Rodger had read the article in NetLetter #1393 and the incident at Regina on May 12, 1983, John sent us this memory -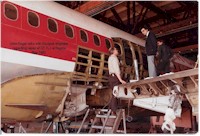 This has brought back memories of the incident in Regina. I went to Regina to do x-rays on the area that was damaged.
Working with the Douglas engineer who would point out what he wanted to be done. The aircraft was too high at the tail to go all the way into the small hangar. It was put on jacks with the tail outside the hangar.
Our crew all from YUL & YWG had to go at noon one day to move from the hotel we were staying at to another hotel due to a convention at ours. While we were doing that a wind storm came up all of a sudden and anyone of you that knows the western prairies know how bad they can be.
When we got back to the hangar the Douglas engineer was beside himself. He was the only one to stay behind and lucky for him he did. With the strong wind, the aircraft started bouncing up and down almost coming off the jacks.
Somehow he got a dumpster filled with sand and had it to tie down the nose of the aircraft saving it from coming off the jacks. He told us after that if it did come off the jacks they would have had to scrap the aircraft. It was repaired and back into service for many years after.
Attached is a photo of me talking to the Douglas Engineer. As you can see it was a major repair.
John Rodger