Wildfire fighters may soon have a new aerial attack weapon in the in the form of a retired Southwest Airlines Boeing 737-300.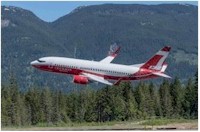 Coulson Air Tankers, the Canadian company that displayed the last flying Martin Mars flying boat at AirVenture 2016, bought six of the airliners from Southwest and has finished converting one to a multipurpose aerial tanker. The Fireliner is currently in San Bernardino, California, undergoing FAA certification tests, focusing on the flight performance of the plane with the 4,000-gallon water/retardant tank installed.
"This is part of the certification program that every air tanker must go through and as we are the first firefighting B737 in the world, it's key that we understand the limitations of the aircraft," the company said in a Facebook post. The next step is "grid testing" by the U.S. Forest Service to assess the drop pattern from the aircraft.
The company says one of the selling points of the aircraft is a new delivery system that pumps water or retardant at the rate of more than 2,000 gallons per minute. That compensates for the higher speeds of the jet to concentrate flow on the fire. The aircraft can also carry 63 passengers when the tank is empty so it can be used to ferry ground crews or other personnel. In an earlier interview, company President Wayne Coulson said there's also an option for an executive interior so that countries or states can use it year-round. The plane also sports a new Garmin 5000 panel. Meanwhile, Coulson is still looking for "respectful" homes for its two Martin Mars aircraft, which will likely never fight fires again. He's hoping museums will be interested in acquiring the planes, which were originally built for the U.S. Navy as troop carriers.
(Source: AVwebFlash June 18, 2018)