1984 -
April 29 - Service to Munich re-introduced. Previous service was from 1974 to 1976.
Service to Geneva, Switzerland commenced.
2010 -
March 27 - Inaugural non-stop service Calgary - Tokyo
April 8 - Service commenced Toronto - Orange County, California
May 1 - Non-stop flights from St. John's, Newfoundland to Goose Bay began.
May 17 - Non-stop flight from Ottawa to Regina service with CRJ-705 aircraft.
June 3 - Service commenced Toronto - Barcelona.
June 6 - Service commenced Toronto - Athens.
June 12 - Service commenced Montreal - Brussels with B-763 equipment.
June 24 - Service commenced Toronto - Copenhagen.
---

From the "Horizons" magazine issue dated August 1983.
La Guardia - the way it was.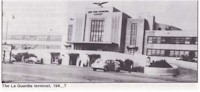 Pictures tell the story here. Taken at La Guardia circa 1946/47, they were provided by Bruce Hembroff, then a Passenger Sales Manager, San Francisco.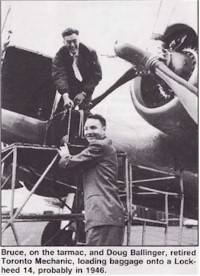 This photo of Bruce, on the tarmac with Doug Ballinger, retired Toronto mechanic, loading baggage onto a Lockheed 14, probably in 1946.
Here in the photo of the La Guardia staff in 1946.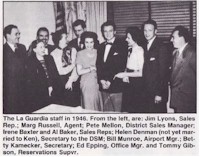 From the left, are: Jim Lyons, Sales Representative; Marg Russell, Agent; Pete Mellon, District Sales Manager; lrene Baxter and Al Baker, Sales Representatives; Helen Denman, Secretary to the DSM; Bill Munroe, Airport Manager; Betty Kamecker, Secretary; Ed Epping, Office Manager and Tommy Gibson, Reservations Supervisor.
---
Stair trekkers conquer Mount Neverest.
They said it couldn't be done.
A group of 25 people climb 900 flights of stairs in five days? Impossible! However, 380 Air Canada employees working at the Richardson Building in Winnipeg proved that 900 flights of stairs were an easy goal and a safe, enjoyable way of incorporating exercise into one's daily routine.
The Mount Neverest (pronounced never rest) Challenge was just one of the events held during National Physical Activity Week during the spring of 1983.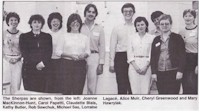 On a group level, the Mount Neverest Challenge, groups of up to 25 people were encouraged to climb a total of 900 flights of stairs in the five working days that the campaign ran. Each flight of stairs was arbitrarily set to be equivalent to 10 metres. Nine hundred flights of stairs would, therefore, be equivalent to 9000 metres. The summit of Mount Everest is 8,780 metres, hence the name, Mount Neverest. Each team was encouraged to reach new heights in stair climbing by its group leader or "Sherpa". The Sherpa also kept everyone informed as to the team's progress and position on Mount Neverest.
The Sherpas are shown, from the left: Joanne MacKinnon-Hunt, Carol Papetti, Claudette Blais, Kathy Butler, Rob Sawchuk, Michael Sas, Lorraine Lagace, Alice Muir, Cheryl Greenwood and Mary Hawrylak.
The Pacemakers are shown, seated from the left: Marlene Turzak, Bev Lewis, Claudette Blais, June Morris and Joan Rochon.
Standing, from the left, are Jim Prouten, Ed Kumka, Jim Ursel, Paul O'Sullivan, Russel Evanochoko, Jan Shute-Furst, Ann Hitesman, Lenore Dodson, Colleen Ball, Florence Richard, Rose-Anne Kociolek, lvy Enns, Lynn Oppenheimer, Al Poitras, Darcy Wershler and David Avery.
Missing from the photo (probably still climbing! – eds) are: Betty Shapiro, Gerry Mason, Joe Nosko, Pat Heinke, John Sagriff and Harry Davies.
---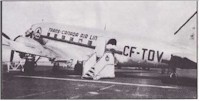 The mighty DC-3, pride of the fleet. This aircraft was delivered to TCA in June 1946.
CF-TDV sold to Remmert-Warner Inc. and delivered in 1961 to Charlotte Aircraft Corp as N9123R and has 16,633 hours flying with TCA. The aircraft ended up with Trans Peraruana de Aviacion as OB-R-810 on October 31, 1965. Fate unknown.
---
Issue dated January 1984
Air Canada launched an aggressive new European program for freight business, effective January 7, 1984. The plan is designed to combat diminishing yields on the rate-embattled North Atlantic routes, while retaining strong overnight service levels between North American and European markets.
The new operation will establish Air Canada as one of the few carriers to renew its commitment to freighters, at a time of sharp reductions in worldwide cargo capacity.
---
A winning ticket.
The London, England reservations staff set itself a stern task when, after participating in a passenger sales effectiveness program, it decided to set a target of one million pounds in "Tickets by Mail " sales for 1983.
TBMs are issued in-house to direct callers to reservations thus saving commissions to travels agents. The target was reached in late November and the staff took a few minutes off to celebrate their success. Sales were up by 26 percent over 1982 with an additional month still to be credited.
Five of the 26 reservations employees who participated in the program are shown with a cake prepared by Commissary.
From the left, are: Steve Williams, Trevor Bull, Nora Hurley, Barbara Wright and George Sims.
---
During 1983, Canadian Maple Wings chapter at Edmonton was set up with the assistance of Maple Wings' President Gretchen Marsh. The Edmonton officers were Louise Kostash, President; Marg Babych-Warren, Vice President and Merilyn Fitzelle-Boitson, Secretary-Treasurer.
---
From the "Parts & Pieces" magazine issue July 1992.
As of August 1, 1992 passengers in economy class on North American flights are paying $2 for beer and wine and $4 for liquor. The non-alcoholic drinks are still free. The end of free booze for economy passengers is part of Air Canada's bid to bring its costs in line with competitors
Issue May 1993.
All Stores Hockey Playoff.
On April 23, 1993, at the Pierrefonds Arena, the annual all stores hockey game was played with over one and a half hours of action, excitement and spills.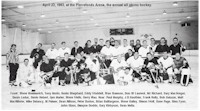 Front: Steve Hommerich, Tony Morin, Kevin Shephard, Eddy Waddell, Stan Sumson, Don St Laurent, Art Richard, Gary MacGregor, Denis Leduc, Denis Hebert, Ken Marler, Steve Wells and Gerry Viau.
Rear: Paul Murphy, J.D. Gauthier, Frank Kelly, Bob Galazzo, Matt MacAllister, Mike Delancy, Al Palmer, Dean Allison, Peter Dorion, Brian Baillargeon, Steve Galley, Simon Wolf, Dave Page, Glen Fyon, John Glass, Dwayne Dodds, Gary Kirbyson and Sean Melia.