Merlane Quon, co-chair host for the 2018 World Airline Road Race being held in Victoria, BC, Canada, sends this information -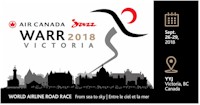 Mission of WARR is to provide a worldwide athletic event, promote travel within the airline industry and foster friendships and coordination between airlines.
Each September/October, employees, family and friends from the airline community come together for the World Airline Road Race (WARR).
WARR is a professionally run, volunteer-driven, four-day event put on by airline members offering to host in their home city.
Now entering its 37th year in 2018, with over 1,500 participants from 60+ airlines, the World Airline Road Race is one of the largest annual airline athletic events in the world. Merlane would love to get some recruiting of folks and retirees welcome to join the Jazz or AC team.