The Squadron
Air Canada acknowledges that the weather at St. John's, Newfoundland is probably worse than anywhere else on the system. Sometimes, your airplanes don't get in.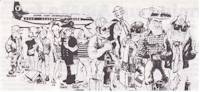 Ace McCool's airplanes always get in!
McCool is President, CEO and Chief Pilot of Down East International Airlines, based at Moncton, New Brunswick, where the weather is no great shakes, either. But what sets DEI apart from other airlines is that it doesn't exist - except in Air Canada Captain Jack Desmarais' imagination and the back page of Canadian Aviation, Canada's National Aviation Magazine.
And, not only are there DEI and McCool, there is Pete Braddock, T.l. (for Totally Inept) Jacobs, The Smarts, Cowboy McCloskey, Red Starr and Churchy Laflamme, "de bes' co-pilot of dem all."
Stew Jane is a flight engineer, Mile-High Millie and Crazy lris take care of things in the cabin, and Phil Lister keeps the airplanes mechanically fit.