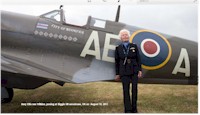 Mary Ellis, who played a vital part in defeating Germany in the battle for Britain's skies during World War II, passed away on July 24, 2018, at 101 years of age.
Ellis, one of the last surviving female aviators from the United Kingdom's wartime forces, delivered fighters and bombers in her job with the Air Transport Auxiliary (ATA), which called up women in 1941 due to a shortage of male pilots, many of whom died as the nation scrambled to intercept and shoot down Nazi planes.
Recently, Mary recalled her first encounter with the plane. "When I went to collect my first Spitfire," she told Forces.net, "the man helping me with my parachute asked, 'How many of these have you flown before?' And I said, 'None, this is the first one,' and he nearly fell off the airplane."
This photo of Mary Ellis (nee Wilkins), posing at Biggin Hill Aerodrome, UK on August 18, 2017.
(Source: US Today July 26, 2018)