The Montreal-Brussels route was inaugurated in April 1958 and discontinued in 1962. Then in 1969 and 1977, before the station again became an off-line office.
(Source: P&P 1993-04)
---

Extracted from the "Horizons" magazine issue dated August 1983.
Charlottetown welcome.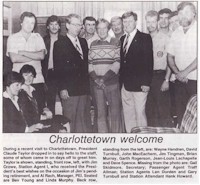 During a recent visit to Charlottetown, President Claude Taylor dropped in to say hello to the staff, some of whom came in on days off to greet him.
Taylor is shown, standing, front row, left, with Jim Crowe, Station Agent l, who received the President's best wishes on the occasion of his pending retirement, and Al Rach, Manager, PEl. Seated are Bev Young and Linda Murphy.
Back row standing from the left, are Wayne Handren, David Turnbull, John MacEachern, Jim Tingman, Brian Murray, Garth Rogerson, Jean-Louis Lachapelle and Dave Spence.
Missing from the photo, (someone has to run the show! – eds) are Gail Skidmore, Secretary; Passenger Agent Traff Allman; Station Agents Len Durden and Gary Turnbull and Station Attendant Hank Howard.
---
Super pigeon goes home in style
"Air Canada" went home in style on July 25 - courtesy of the airline after which it was named. "Air Canada" is a two-year-old English racing pigeon that somehow got off-course on a Penzance to Manchester race and ended up in Thunder Bay, Ontario. In gratitude to the company for flying the bird home, its owner. Jack Roberts of Marple, Cheshire, named the pigeon "Air Canada".
The story began when Thunder Bay resident Bob Balina found the weary and hungry creature in the area of the community's lakeside grain elevators on June 27 - 16 days after the pigeon set-off from Penzance with eight, feathered friends.
"Air Canada's" homeward bound routing took him from Thunder Bay to Toronto and, after a short stop, onward to London, England on AC856.
On the Thunder Bay - Toronto leg, "Air Canada" rode the flight deck with B-727 Captain Art Gillard; and en route to London, Captain Pat Palmer arranged for the bird to be placed in a cabin all to itself - because of passenger load, the B-747 upper deck seating was not in use.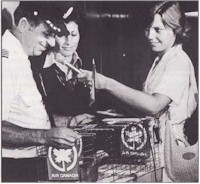 In this photo, we have Captain Art Gillard with a bird in the hand, and Passenger Agent Anna MacGallum to meet the press in Toronto. During the stopover en route from Thunder Bay to London, the bird, named "Air Canada" by its owner, was under the wing of Anna and Passenger Agent Erika Cravero who watched over it in the Maple Leaf lounge until boarding time for flight 856.
(That's when standby travel was easier than it is today! – eds)
---
Issue dated February 2010. (used with permission)

ACtion Haiti.
On January 12, 2010, a severe earthquake devastated the Caribbean nation of Haiti, causing over 100,000 deaths, unfathomable destruction, and incalculable suffering. Almost immediately, Air Canada employees stepped up to offer their ideas, their money, even their time, to assist those in need.
One of our first actions was to carry supplies to Port-au-Prince. On Saturday, January 16 at 7 a.m., AC2050 departed Montreal headquarters base for Port-au-Prince, Haiti. Air Canada employees worked round the clock to prepare the Boeing 767-300ER aircraft for the relief flight. The aircraft departed with 18,000 kilos of relief supplies including food, water, tents and medicine, and returned late that night carrying 112 weary but relieved evacuees home to Canada, along with four search and rescue volunteers. Below, a group of volunteer employees flying to Port-au-Prince pose for a picture outside the aircraft.
Among those pictured here: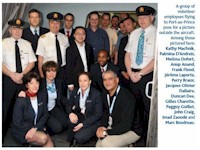 Kathy Machnik, Palmina D'Andreis, Melissa Dufort, Anup Anand, Frank Flood, Jérôme Laporte, Perry Braux, Jacques-Olivier Dallaire, Duncan Dee, Gilles Charette, Pagguy Guillet, John Craig, Imad Zaoudé and Marc Boudreau.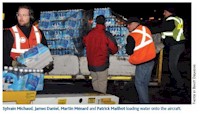 We have this photo of Sylvain Michaud, James Daniel, Martin Ménard and Patrick Mailhot loading water onto the aircraft.
---
Issue dated September 1983
A two-time winner.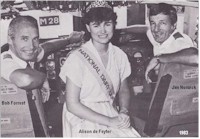 For the second consecutive year, Toronto-based Captain Bob Forrest had the pleasure of carrying the United Kingdom National Dairy Queen aboard his flight from London (LHR) to Toronto.
The 1983 winner of the competition, mounted by the National Dairy Council, was 19 year old Alison de Feyter of Norfolk. She is shown in the cockpit of a 747 with Captain Bob Forrest and First Officer Jim Norwick. Air Canada had sponsored the competition since 1976.
---
Issued dated October 1983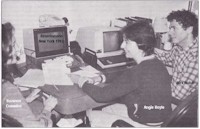 One step taken to assist New York reservations to become more sales effective was the installation of an Apollo and a Sabre terminal.
The equipment allows Reservations Sales Agents, from the left, Suzanne Cummins, Angie Boyle and Alex Holub to provide Reservations with competitive input as well as to keep an eye on the display of Air Canada information in those co-host systems.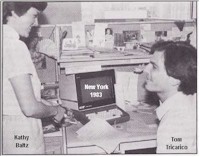 Kathy Baltz, Reservations & Sales Office Manager, and Tom Tricarico, Reservations Agent regularly discuss and monitor the progress of sales effectiveness.
---
From the "Parts and Pieces" magazine issue dated April 1993.
The Customs Group
1992 was a tough year for the Dorval Stores Customs Department: We lost 30% of our staff in the cutbacks. The survivors have rallied and generally managed to provide competent, cheerful (?) service to hundreds of our customers.
In our photo we have, from the left:
Back row: Lilian Mclean, Yves St-Martain, Bob Bernie, Michael Fowler, Diane Clark and Diane Van Den Bosch.
Front row: Janet Smith, Holly Tobin and Dorothy Landry.