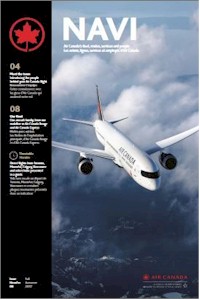 Air Canada NAVI magazine was launched in March 2017.
Here we have the issue for October 2017 cover page.
Below is a photo of the crew.
From the left: Serge Corbell, Sara Hamm, Geoff King, Eric Hansen, Lindsay Sande, Krista Robb, Chase Myhill, Stephanie Werte, Syed Hussain, Zulma Fomo, Donald Wall, Twyla Robinson, Shaun Utrl, Bambina Marcello, Caroline Johnson, Chadd Oltean, Marc Danto, Rod Rance and Michael Kolsun.

---

From the "Horizons" magazine issue dated November 1983.
Shown at the Pacific Area Passenger Sales Conference in Vancouver are: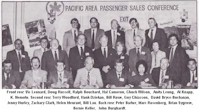 Front row from the left: Vic Leonard, Manager San Francisco; Doug Russell, General Manager, Cargo; Ralph Bouchard, Sales & Service Director; Hal Cameron, Public Affairs Director; Chuck Wilson, Manager, South Pacific; Anita Leung, Manager, Hong Kong, China & Macao; Al Knapp, Manager Japan & Korea and K. Nemoto, Passenger Sales Manager, Tokyo.
Second row from the left: Terry Woodford, Passenger Sales Manager, Singapore; Hank Dziekan, Passenger Sales Support Manager; Bill Rowe, Vice President Western Region; Guy Chiasson, Vice President, Passenger Marketing; David Bryce-Buchanan, Vice President - European Region; Jenny Hurley, Advertising Manager, International; Zachary Clark, General Manager, B.C. & Pacific Northwest, Vancouver; Helen Meurant; Executive Secretary and Bill Lau, Young & Rubicam, Hong Kong.
Back row from the left: Peter Barker, International Product Planning Director; Marc Rosenberg, International Merchandising Director; Brian Sygrove, Sales & Service Director; Bernie Keller, Manager, Southeast Asia, Singapore; and John Burghardt, Director, Advertising
---
Issue dated April 2010. (Used with permission)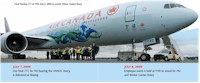 Air Canada was a sponsor for the YVR 2010 Winter Olympics. This photo shows the most recently delivered B777 (at the time) in YVR on July 8, 2009, painted with the VANOC livery for the 2010 winter Olympics. It flew in the special livery from entry into service in 2009 until the games the following year. It was repainted in standard AC livery soon after the end of the games.
Concierges, as ambassadors for Air Canada and already in the habit of offering personalized, seamless service to Super Elites, Executive First customers and corporate VIPs, worked round the clock to assist athletes, VIPs and dignitaries with the level of service that consistently set Air Canada apart from other carriers.
Welcoming the world.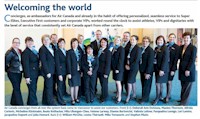 Air Canada concierges from all over the system have come to Vancouver to assist our customers.
Front left to right: Deborah Ann DeSouza, Maxine Thomson, Alfrida Corlevic, Micheline Klintmalm, Beate Rothacker, Mila Ubungen-Chee, Helene Larway, Dianne Bertoncini, Valinda Leitner, Pasqualina Luongo, Lori Lemire, Jacqueline Dupont and Julia Howard.
Back (left to right): William McGhie, Louise Thériault, Mike Tomasevic and Stephen Pilato.
---
Team Air Canada places 7th in Brazil Soccer Cup.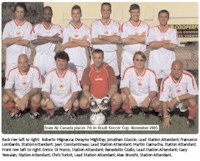 Station Attendants from Montreal Airport and Cargo placed 7th in the Point Eventos' Brazil Soccer Cup 2005 and actually made it to the quarterfinals. These employees took the initiative to form a team and invited a few fellow amateur soccer players. In its third year, the five-day event was held from November 1 - 6 in Salvador Bahia.
The 32 teams were made up primarily of employees from various airlines and Air Traffic Control centres from around the world.
In our photo we have -
Back row: left to right: Roberto Mignacca, Dwayne Mightley, Jonathan Giaccio, Lead Attendant; Francesco Lombardo, Station Attendant; Jean Constantineau, Lead Attendant; Martin Garnache, Station Attendant.
Front row: Enrico Di Marzo, Station Attendant; Benedetto Giallo, Lead Station Attendant; Gary Yessaian, Station Attendant; Chris Turkot, Lead Station Attendant; Alex Bruschi, Station Attendant
(Unfortunately, the url quoted in the article no longer exists so we were unable to find the current situation for this event - eds)
---

Extract from 'Regional News' magazine issue March/April 1981.
Thirty-five years and still hanging on.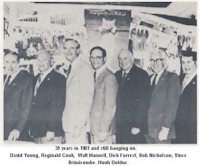 The year was 1946, the name was Trans-Canada Air Lines, and the symbol was TCA rampant on a maple leaf when these "students'' joined at Winnipeg in what has become the self-styled College of Airline Knowledge--the indoctrination course for new employees of the airline that became Air Canada.
This year seven of the original 19 of the class of '46 gathered in San Francisco for a third reunion (others were held at the 25th and 30th anniversaries).
From left to right: David Young, now area manager, western U.S.; Reginald Cook, (retired); Walt Mannell, former sales rep., New York and now a Kansas City travel agent; Dick Forrest, retired AC personnel director; Bob Nicholson, AC D.M. Winnipeg; Vince Brimicombe, Sales rep., SFO and Hugh Dolduc, retired.