Retrieved from Air Canada's 'Horizons' magazine.
Issue dated July 1983.
B-747's leased for a 12 month period.
Fin #306 (combi) to Air National of California from May 12.
Fin #301 to Global International Airways of Kansas commencing June 14.
Fin #303 is in short storage at Toronto.
Fin #302 is in storage at Hughes Aviation Services in Las Vegas.
The following DC-8's are parked at Evergreen Air Centre, Marana Air Park, Arizona.
Fin #'s 816, 817, 818, 819, 860, 861, 862, 863, 865, 866, 868, 869, 870, 876.
Fin #'s 815, 864, 877, 879 stored at Dorval, acting as demos for potential buyers.
Updated last known information is -
Fin #301 c/n 20013 with Global International and scrapped.
Fin #302 c/n 20014 with Air Atlantic Icelandic and scrapped.
Fin #303 c/n 20015 with Royal Air Maroc Sept 1982
Fin #306 c/n 20977 with Kalitta Air Mar 2003.
Fin #870 c/n 46036 with ALG Transportation, Kansas City registered N870BX
Fin #876 c/n 46113 with GHANA registered N811AX
Fin #877 c/n 46126 with UAE 16/6/2008 registered N812AX
Fin #879 c/n 46115 with ABX Air, Wilmington, Ohio registered N825AX
---
Issue dated November 1983.
Air Canada's first re-engined DC-8 freighter went into service on November 8, 1983, sporting new engines that will allow it to fly into the 1990's, despite stricter anti-noise regulations being introduced internationally over the next few years. The re-engining of all six of the airline's stretched DC-8-63 cargo jets is being performed at the airline's technical center in Montreal.
Effective December 1, 1983, all passengers and crew members on inbound international flights will complete traveller declaration cards for presentation to the primary inspection line customs officer.
---

Air Canada Tango.
The airline was launched in November 2001 with a fleet of 12 Airbus A320 and 9 Boeing 737-200 aircraft, but by 2004 the airline had ceased flying.
Air Canada retained "Tango" as a brand name for its cheapest airfare category.
Photo By Ken Fielding on Flickr
---
Gander loves a parade.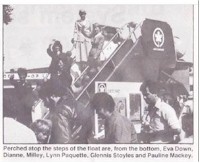 Using the theme "step into our world", Gander employees entered their first-ever float in the Gander Day festivities. The float was built around a passenger stand and was decorated with TCA bunting, 747 inflatables, posters and clowns, a revolving globe of live Smurfs and five women wearing uniforms from the past and present.
While they did not take any honours, the group had fun participating. Even passengers passing through Gander on flight 861 had a chance to join in the festivities as Papa Smurf and his clowning friends provided a little in-flight entertainment.
Most employees pitched in to make this year's entry and plans are already in the works for something bigger and better next year.
In our photo, pictured on the steps of the float, from the bottom: Eva Down, Dianne Milley, Lynn Paquette, Glennis Stoyles and Pauline Mackey.
---
Issue dated May 2010. (Used with permission)
Onboard service goes cashless.
As of May 1, 2010, Air Canada cabins transition to all credit card purchases. In our convenient new cashless cabins, having the right currency to purchase Onboard Café, bar and/or duty-free boutique items onboard, and searching for and providing the exact change are no longer issues.
---
Extract from "Regional News" magazine.
Issue March/April 1981.
"D" is delightful.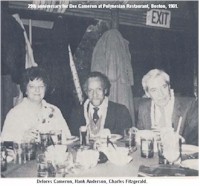 The staff at Logan Airport in Boston got together recently to wish Dee Cameron a happy 25th Anniversary with Air Canada.
Ms. Cameron was taken to a Polynesian restaurant by local management and her co-workers, where she was presented with gifts and her annual pass.
Seated are the guests of honour, Delores Cameron, Hank Anderson, airport manager and Charles Fitzgerald, district manager.
Here is a memory of her career by Dee Cameron -
When l was a child I would sit by the wharf and watch the planes from Logan airport come in and take off.
Whoever thought someday I might be working for such a great airline company.
Childhood rolled into teenage by Dee Cameron -
There was high school and college went by real fast
Getting a job in the airlines
Was my next important task.
I started with the company April of fifty-six
And it was really amazing to see
Without computers, it took two teletype messages
To get our passengers from Point A to B.
As I remember now had just DC threes
But as passenger sales began to mount
We were really happy to get our new airplane
The great Vickers Viscount

I guess I felt like making a change
Or maybe it was just fate
I applied for a transfer and got it
Miami in sixty-eight
I'll never forget the first day in Miami
My supervisor asked me to meet 902 at the gate
I was a little surprised when I got there
He forgot to tell me it was a DC-8
As our loads seemed to increase all over
Florida, really set the stage
Before you knew it we were all well trained
And ready for the computer age
Even though I enjoyed my stay in Miami
Eight years in the sun and surf I had been
I just missed all my friends back in Boston
It was good to go home again
I returned to Boston airport in seventy six
Renewing old acquaintances was so much fun
Before I knew it l looked at the calendar
It was April Second of Eight-One
To all of my friends in the system
United States and Canada too
It really has been my pleasure
Knowing and working with all of you
Now, before I get too sentimental
And maybe even start to shed some tears
Let me just say, I can't think of a nicer way
To spend the last Twenty-Five years
---
Access reaches POS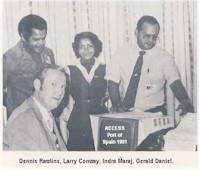 Major customer service improvements continue to make yards for us in the South.
With the recent introduction of ACCESS to Port of Spain. Both major daily papers here gave prominent mention of the new service.
In this photo we have seated, Larry Conway, access coordinator, US & SR, explaining the nature of the computerized cargo tracing system to, from the left, Dennis Rawlins, airport manager, Indra Maraj, CSA and Gerald Daniel, station agent.