Shirlee Schacter has sent us this report and photos -
Marquee "Welcome to Pionairs".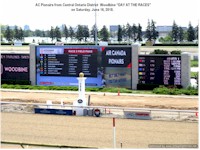 Sixty (60) AC Pionairs from Central Ontario District received a personal greeting on the racing marquee at this year's Woodbine "DAY AT THE RACES" on Saturday June 16, 2018.
It was a fun-filled afternoon of dining, exciting horse-racing and gaming. Those attending were treated to special seating in the "Favourites Dining Room" with a ringside window view of the thoroughbred action on the track.
There was a lot of schmoozing among friends and some serious placing of bets after studying the racing form. There were many happy faces when winnings were claimed at the betting windows.
The traditional sumptuous buffet that Favourites is noted for was included in the outing. An added bonus was the $10 "free" Slot Play Coupon each member received which has reaped some good rewards to several in the past. "Always a popular fun-filled afternoon - far from the everyday experience!"
Here are the photos -